The Walking Dead's Jeffrey DeMunn And Andrew Rothenberg Join Frank Darabont's L.A. Noir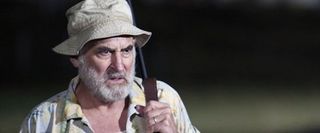 If you haven't gotten caught up on the second season of The Walking Dead, read no further!
What is The Walking Dead's loss may be L.A. Noir's gain. The TNT drama pilot appears to be picking up the AMC dramas leavings, and it may be all the better for it, given the talent falling away from that show.
Created by The Walking Dead's Frank Darabont, L.A. Noir is a crime drama pilot that takes place in Los Angeles during the 40's/50's and follows the gangster Mickey Cohen and the police chief pursuing him. TV Guide posted the news that two more Walking Dead alums will join previously cast Jon Bernthal (also of TWD) in the pilot. Jeffrey DeMunn, who played Dale in TWD, has signed on to play "Hal Morrison," a detective on the LAPD. Meanwhile, Andrew Rothenberg, who was in the first season of the series, has been cast in a guest-starring role as "Eddy Sanderson," a man on Hal's team.
It's likely that fans of TWD are more familiar with DeMunn than Rothenberg in the series, as Dale lived for much longer, and his death was pretty devastating. However, Rothenberg's character Jim also had a memorable departure from the show. He was bitten when the walkers attacked the camp in Season 1, and suffered through the ordeal, refusing to shoot himself. The last we saw of him, he was dying on the side of the road. As tough as it was to see them leave TWD (especially Dale - I'm still not over that), it's great to know that both actors have found a new project, and hopefully one that'll find some of the same success on TNT that TWD has on AMC. Given the creator and the growing cast, the right ingredients are certainly falling into place.
Your Daily Blend of Entertainment News
Thank you for signing up to CinemaBlend. You will receive a verification email shortly.
There was a problem. Please refresh the page and try again.