USA Bringing British Series The Choir To America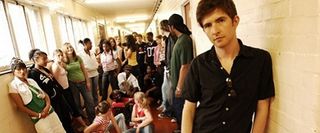 Another British format is making the jump over the U.S. television. This time it's USA Network picking up an American version of the U.K. hit The Choir. This latest entry into the over-saturated singing competition market features choirmaster Gareth Malone, who seeks out and unites American singers "through the power of music".
USA has given the go-ahead for ten episodes of the reality series, which unlike most singing shows isn't actually a competition. Malone treks across the country and selects people – both professionals and those who have never sung except maybe in the shower – to come together as a choir. He works with them, helps them to find their voice, and then helps them put on a choral performance for their community. According USA's announcement, Malone says he doesn't "teach people to sing, I give them a voice." Well I don't know about Gareth Malone, but I have met quite a few people who don't belong in a choir no matter how good the choirmaster might be at providing them with a voice.
The U.K. version of the series is BAFTA-award winning and has been on the air for four seasons. It seems to be an inspirational theme for USA, which just gave the greenlight to The Moment, a series that seeks to help people rediscover and pursue forgotten dreams. Perhaps Malone's choir should sing in the background at the end of each episode of The Moment in an dream-achieving, voice-discovering crossover love fest. I guess I'm just a little too jaded for dream-come-true reality television.
Your Daily Blend of Entertainment News