The Vanilla Ice Project Picked Up For Second Season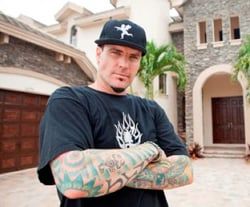 When I think of Vanilla Ice the first thing that comes to mind is either his tirade on the MTV special where he trashes the set, or the Ninja Rap. Home improvement and contract work are not at the top of the list. Apparently Mr. Van Winkle has spent many years teaching himself to remodel houses for flipping. Now that self-taught talent has landed him a new TV series on the DIY Network.
The network announced that The Vanilla Ice Project has been picked up for a second season. The show premiered on October 14, and garnered enough praise from fans and critics that DIY is already committed to continue working with Ice.
"He not only has skills important to DIY Network, Rob resonates with our audience," commented Andy Singer, GM of DIY. "We are thrilled to continue working with him."
The Vanilla Ice Project airs Thursdays at 9:00pm ET on DIY Network
Staff Writer at CinemaBlend.