The Walking Dead Gets an Eerily Similar Second Season Poster Plus A Rick Grimes Teaser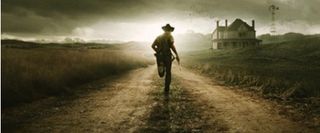 I have already been over my first season qualms with AMC's The Walking Dead but after all the mid-season shake-ups, I think it's fair to say that I wasn't the only one with qualms. However, this is not the first season and this is not the same group of writers so I'm kind of back in excited fan mode. The second season is still based on Robert Kirkman's amazing source material. It still has some of the best make-up effects thanks to Greg Nicotero. It still has a promising cast led by Andrew Lincoln. And now, it has an impressive new poster and teaser trailer.
The official AMC The Walking Dead website debuted the new image and although it's very similar to the poster we saw for Season 1, there is definitely a different tone. Sure, we have the solitary Western hero approaching unknown danger but this time, he's not perched atop his horse. This time he's not sitting high in his saddle, ready to take any comers but he didn't know what was coming. Now, he does... and he's running, gun drawn and towards what I assume is Hershel's Farm. Those who have read the series will know more about that locale and it's inhabitants, with the oh so creepy Scott Wilson playing Hershel Greene.
Now compare it with the one made for the first season.
AMC also released a new teaser trailer for the upcoming season (which I spotted at /Film) and it only reinforces the transformation in Rick Grimes (Lincoln) that we get a glimpse of in the new poster. This however, goes way beyond that and hints at a much darker tone for both the series and our leading man/hero. It's a quick but effective 15 seconds.
Your Daily Blend of Entertainment News