The Walking Dead Might Get Banned In China Because Of This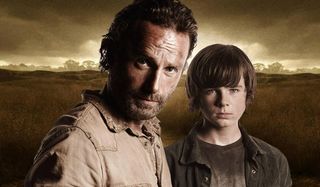 Headed into 2015, China has decided to institute a new set of restrictions related to the TV content eligible to be viewed in homes. The State Administration of Press, Publication, Radio, Film and Television has already cracked down on what content Chinese citizens will be able to legally view in their homes, and starting on April 1, 2015 any foreign movies and TV programs need to be registered with the government organization or will need to be removed from legal streaming sites and other media services. The nation is looking to promote domestic and "healthy" content for its population, which is bad news for the likes of The Walking Dead.
Just like in the US, there is a big fanbase related to The Walking Dead and certain other high-profile shows. When China's new regulations go into effect in April of 2015, any shows that the government does not want to register will no longer be available on broadcast or streaming networks. This means that the Chinese government will now be aware and will have to look into all TV programs that want a Chinese audience. While shows like The Walking Dead might be easy targets for a government that is looking to decrease violence and sex on television, this will likely also have ramifications for more middle of the road shows. For instance, CNN reports that while network drama Madam Secretary is currently available in China, audiences cannot find the fourth episode of the series, which brought up Tianammen Square. Expect this to get worse when the government begins micromanaging even more.
China has been dealing with increasingly strict censorship laws related to American TV fodder in Chinese homes in recent months. Fans of The Big Bang Theory and other popular US shows like The Good Wife and NCIS lost their ability to watch last spring when the government pulled those shows and others from widely used streaming services. The new registration process was brought up this fall and now we're getting close to the date that it will be instituted.
Technically, the Chinese Government has been removing content it doesn't approve of for a long time. It's not as if the nation is famous for its freedom of speech or its open journalism, but the new registration process will be a headache on multiple levels. Not only are Chinese citizens concerned about losing some of their favorite American shows, The State Administration of Press, Publication, Radio, Film and Television has a lot of work cut out for it if it wants to issue permits for all foreign TV movies and shows. Not to mention programming that will eventually be approved will likely hit homes late. From shows that will no longer be available to China to shows that will appear months and months late, it seems like it is encouraging piracy.
Reality TV fan with a pinch of Disney fairy dust thrown in. Theme park junkie. If you've created a rom-com I've probably watched it.
Your Daily Blend of Entertainment News
Thank you for signing up to CinemaBlend. You will receive a verification email shortly.
There was a problem. Please refresh the page and try again.