Why Chinese Legend Chow-Yun Fat Is Banned From Making Movies In China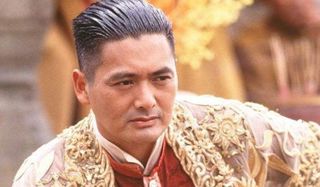 Thanks to films like Pirates of the Caribbean: At World's End, Bulletproof Monk, and Crouching Tiger, Hidden Dragon, it wouldn't be too big a stretch to call Chow Yun-Fat one of the biggest international stars to ever come out of China. But now his homeland's government is attempting to cripple his career over his political views, putting him on a black list domestically.
Shanghaiist reports Chow Yun-Fat has been banned from working on film productions in mainland China by the socialist government there. His crime is being pro-democrat, publically supporting the student protests that have been popping up over the past five weeks. He first spoke out in early October, as reported by THR he told Apple Daily,
Asked by reporters how Yun-Fat feels about being blacklisted, he seems to have responded with a shrug, saying:
Chow Yun-Fat is not the only celeb who has spoken out in support of the protesting student groups. Andy Lau, who has appeared in more than 150 films but is best known Stateside for the 2002 crime drama Infernal Affairs, Tony Leung Chiu-wai (Hero, Infernal Affairs) and singer Denise Ho, as well as Kenny G - yeah, the American saxophone player--have all taken sides with the students. There is no mention in the Shaghaiist piece if these celebs are also facing blacklisting from China's central government. Tony Leung Chiu-wai is currently attached to a Hong Kong romantic drama called The Ferryman, which is in preproduction and slated to hit theaters in 2015. Andy Lau is currently in production on a Chinese thriller called The Bodyguard, which is also expected to open in 2015.
As for Chow Yun-Fat, 2014 saw the release of two Chinese efforts he fronted, including the family-friendly adventure The Monkey King: The Legend Begins and the cop drama The Man from Macau. No upcoming projects are listed for the actor on IMDB, but don't cry for Chow Yun-Fat. He's got plenty of bank to keep him comfy, recently revealing that he plans to donate about $164 million to charity in his will.
Your Daily Blend of Entertainment News
Staff writer at CinemaBlend.