The Wanted And WWE Divas Featured Among E!'s Upcoming New Series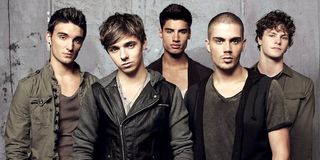 It's E!'s turn among this year's Upfront season to present their 2013-2014 slate to advertisers, which includes revealing the new programming and projects in development at the network. Among the new series set to debut in the coming months at the entertainment news and celebrity gossip-focused cable channel are unscripted shows chronicling the behind-the-scenes happenings for musical group The Wanted and the women of WWE Divas.
First up, E! has The Wanted Life, a new half-hour series that debuts Sunday, June 2 at 10:30 p.m. ET/PT and will look at the personal and professional lives of UK pop band The Wanted as they settle down in California to record their third album. Fans of the group will get an inside look into the group members' relationships with one another and their efforts to bring more music to the masses. This series will be preceded by a special featuring Ryan Seacrest and the group called Ryan Seacrest with The Wanted: An E! Special (nothing like cramming all of the relevant information into the title, right?). That airs Monday, May 27 at 10:30 p.m. ET/PT.
On Sunday, July 28 at 10:00 p.m. ET/PT, Total Divas will debut. The hour-long series will showcase the real women behind the WWE Divas, taking viewers inside their personal lives and showing what goes on in their lives when they step out of the ring.
Pop Innovators is expected to debut this July and looks at "the most influential names in pop culture in their own words."
In case you were noticing a lack of Kardashian on this slate, Khloe & Lamar are mentioned among some of the celebrity/athlete pairings listed in the description for Love and Other Contact Sports: Eric and Jessie. Though it's unclear if the couple will actually be featured on this series at any point. The show aims to explore the romantic relationships between celebrities and athletes, starting with singer Jessie James and her fiancé Denver Broncos wide receiver Eric Decker. The two are getting married soon and the show aims to chronicle their road to the alter, which involves a lot of schedule-juggling, between her music and his sports commitments.
Hello Ross (working title) will debut in the fall and is described as a new interactive talk show hosted by Ross Mathews. E! also has The Trend set to debut this fall. The show will feature a team of experts and celebrity contributors who will discuss fashion, beauty and design. No names were mentioned in terms of who these "experts" are, but the series sounds like something that'll fit in well among E!'s other fashion-focused programming.
Your Daily Blend of Entertainment News
Thank you for signing up to CinemaBlend. You will receive a verification email shortly.
There was a problem. Please refresh the page and try again.