Watch Adam Sandler Sing A Hilarious Tribute To David Letterman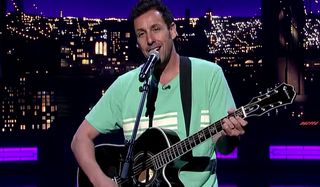 We've seen Adam Sandler evolve from an oddity on Saturday Night Live to the bankable box-office king of comedy to…whatever he is now. However, in giving tribute to the exiting late night mainstay David Letterman, Sandler dusted off his guitar and gave a hilariously heartfelt tribute that equally hearkens back to his own past.
As the clock winds down on the legendary host's long tenure in the late night comedy realm, nostalgia seems to be dominant over at The Late Show with David Letterman. The host's tour-de-force trip down memory lane leading to his May 20 sign-off continues with an elite lineup of final guests. Yet, one of those guests, Adam Sandler, took last night's show as an opportunity to give tribute to the host while also giving fans a nostalgia bomb, courtesy of a guitar and his all-too-familiar bizarre busker character.
Regaling Letterman and his audience with "There Is No Better Man Than Good 'Ol David Letterman," Adam Sandler's pre-multimillion-salaried superstar of old came out to make an earnest, sometimes-scatological ode to the exiting host. Of course, fans around during the early 1990s first saw Sandler breakout on Saturday Night Live with similar guitar-accompanied musical numbers during the "Weekend Update" segment; notably the animated film-inspiring "Hanukkah Song" and "Lunchlady Land." Indeed, the spectacularly subversive performer who first drew comedic buzz across the comedy landscape came out to play that night, helping send Letterman off with a tune that manages to be simultaneously sincere while obscenely absurd.
While the number in particular shined a spotlight on the bittersweet impending expiration of David Letterman's legendary late night run, it's also difficult not to see it as a fascinating moment for the career of Sandler himself. His edgy, quasi-adolescent brand of comedy turned him into one of the highest paid stars in the film industry, commanding exorbitant salaries. However, he was starting to earn a reputation as a man phoning in performances in unimaginatively derivative paycheck projects. Currently mired in controversy over allegations of ethnic insensitivity for his Netflix-exclusive film project called The Ridiculous Six, it certainly felt like we were quite far from the days of the innocent, guitar-strumming absurdity that we see here.
We are just one whole week away from the May 20 date when Letterman will end his legendary 33-year presence in the late night arena, which spanned two shows, with 11 years on NBC's Late Night with David Letterman and 22 years on CBS with the current Late Show with David Letterman. Like Sandler, Letterman started his repertory trade in late night as a notoriously subversive and edgy figure, before settling into his desk as the industry's reliable, go-to mainstay. While there are certainly plenty of tributes ahead in the next few days, Sandler's performance renders itself appropriate in that respect. It serves as a touching tribute to Letterman's magnificent run, with just the right amount of lighthearted ribbing that seems to highlight some parallels between the two figures.
Your Daily Blend of Entertainment News
Thank you for signing up to CinemaBlend. You will receive a verification email shortly.
There was a problem. Please refresh the page and try again.