Watch Adult Swim's Black Dynamite Animated Pilot, You Jive Turkey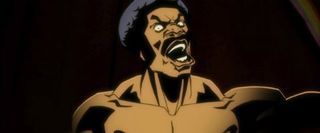 Two years ago now, a small Blaxploitation film starring Michael Jai White was making the festival rounds looking for distribution. Despite being universally loved, the film had a tough time getting a wide release and instead developed a niche following of those interested in the resurgence of great exploitation flicks (thanks QT and RR?).
Even though Black Dynamite the film didn't reach a wide audience, its quality warranted another look at the bad-guy fightin' brother's exploits... only this time, animated and on the small screen. The un-aired pilot episode for the upcoming Adult Swim (opens in new tab) animated series has "Black Dynamite take on his childhood mentor and surrogate father: That Frog Kurtis, a Puppet TV educator turned super villain!" And the best part is, you can watch the whole thing below.
The show is up to the film's quality in laughs and action (although, it's always a little more impressive to see BD kick The Man's ass in live-action) and I definitely recommend giving it a look before running out and renting the film. Let's just hope Cream Corn, Tasty Freeze, Sweat Meat and all the other favorites from the Scott Sanders' flick show up in the series. Until then, down with The Man.
Watch more Black Dynamite on Adultswim.com (opens in new tab) before the show hits the tube in 2012. Official synopsis,
Your Daily Blend of Entertainment News
Thank you for signing up to CinemaBlend. You will receive a verification email shortly.
There was a problem. Please refresh the page and try again.