Watch Will Forte Hilariously Explain His Tour Of A Dildo Factory To Conan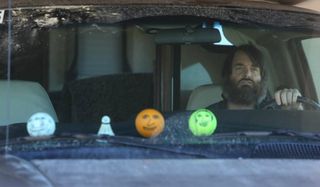 It would only make sense for a show as absurd as Fox's The Last Man on Earth to shoot near some similarly absurd businesses. As it turns out, actress Kristen Schaal recently revealed that they produce to show on a set near a dildo factory. Well, the dildo factory got wind of the shout out, and recently allowed the entire crew to tour their premises. Tandy Miller himself Will Forte appeared on Conan last night, and went into hilariously awkward detail about the experience. Check the video out below.
Forte prefaced the entire story by reminding us they dildos do not in fact occur naturally in nature, like any other consumer product professionals in a factory environment create them. As his tour with the rest of the Last Man on Earth crew progressed through the factory, he realized that there are actually real people who make a real living taking part in the various stages of dildo manufacturing, from someone who pours latex into a mold to a nice group of ladies who paint the finer details of the phallic love toys.
As it also turns out, dildo factories provide a much more diversified service than their name would suggest. At one point during the tour, Forte and his crew had the pleasure – or displeasure, since it's really a matter of perspective – of watching workers at the factory take a mold of a woman's set of equipment to be replicated and sold to the general public.
Of course, Forte did not leave the tour empty handed. He walked away from the experience with a box full of hilariously absurd items, such as a water cooler shaped dispenser of lube which he claims he has not used, and nipple clamps that he most certainly did try on. See for yourself below:
By the time Forte ends his story about his trip to the dildo factory, he reveals that he actually has a gift for host Conan O'Brien. He reveals a wrapped cylindrical object from behind Conan's desk and hands it to the befuddled host; as you can probably imagine, it begins to vibrate and even worms its way out of the wrapping and onto the desk for the world to see.
Let this be a lesson, if you've ever had an interest in learning the fine art of dildo making, there are factories that may be willing to offer a tour, and they exist right here in the United States of America.
Will Forte's The Last Man on Earth airs Sundays on Fox at 9:30 PM EST.
Originally from Connecticut, Conner grew up in San Diego and graduated from Chapman University in 2014. He now lives in Los Angeles working in and around the entertainment industry and can mostly be found binging horror movies and chugging coffee.