Watch Will Forte Test His Last Man On Earth Beard For Poop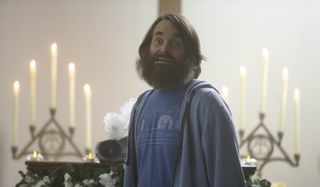 Although it may have taken a brief hiatus during the latter half of The Last Man On Earth's first season, Tandy (Will Forte) brought his beard back in full force for Season 2. However, as fashionable as beards have become in recent years, growing one out means putting up with a lot of crap. As Forte just found out on a recent Tonight Show appearance, that statement could potentially be taken literally.
While appearing on The Tonight Show Starring Jimmy Fallon, Forte opened up about how he had recently been reading numerous articles suggesting that beards can become "riddled with fecal matter." Fearing the same for his own face, the actor enlisted the help of a UCLA researcher to take samples of his facial hair and test for trace amounts of – putting it bluntly – crap.
Flanked by fellow Saturday Night Live alum Rachel Dratch and powerhouse SNL host Jon Hamm, Forte nervously allowed Jimmy Fallon to announce the results of the rest: no poop. Upon hearing this revelation, the crowd bursts into applause and Forte lets out near blood curdling scream to express his happiness at the news. The man deserves his award nominations for acting – he knows how to emote like a champion.
However, just because Forte's beard was free of fecal matter did not necessarily make it clean. The test found various forms of bacteria that could have been picked up in numerous, common, and equally disgusting parts of his life. Despite the presence of these bacteria, the comedian still breathed easier knowing that his worst fears had not been realized.
Growing out such robust facial hair has served a far greater purpose than merely implying a long passage of time for The Last Man On Earth. The beard has become an integral part of Phil Tandy Miller's attempt at a redemptive arc this season. Forte explained prior to the season premiere that the beard represents Tandy at the earliest stages of the audience's relationship with the character. Without the beard, the character became malicious and a genuine bad guy to those around him; but with the beard, he is at least attempting – albeit poorly – to try and do the right thing for those around him.
Regardless of you how feel about The Last Man On Earth, or about Will Forte himself, it's safe to say that we all sighed with relief to find out he was not carrying human waste around on his face for the last few months. If you haven't checked the clip out yet, do yourself a favor and check it out. Forte's reaction alone to finding out he doesn't have poop in his beard makes it worth it – that is what genuine happiness looks like.
Originally from Connecticut, Conner grew up in San Diego and graduated from Chapman University in 2014. He now lives in Los Angeles working in and around the entertainment industry and can mostly be found binging horror movies and chugging coffee.
Your Daily Blend of Entertainment News
Thank you for signing up to CinemaBlend. You will receive a verification email shortly.
There was a problem. Please refresh the page and try again.