Watch Jay Leno Rip On Jimmy Fallon On The Tonight Show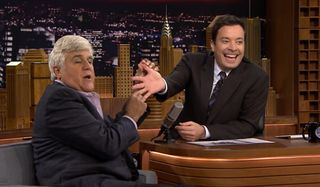 The Tonight Show with Jimmy Fallon had a very special guest on last night. Former host Jay Leno was interviewed on the late night program for the first time since leaving The Tonight Show, and he spent the majority of the interview poking fun at his predecessor. You can catch the clip, below.
In the video, Leno and Fallon discuss a time Fallon tried to enlist the older comedian's help in buying a classic car. Restoring old beauties to their full glory is a pastime for Leno, but he had to tell Fallon why owning an "old-timey" car would probably be more of a headache than an investment. Fallon, apparently, doesn't know anything about cars, much less fixing classic cars when they break down. Leno also pokes fun at Fallon's tiny hands, and has some uncouth expenses he forces the younger comedian to cover.
Leno's comedic 'tude during the segment is amusing, and it shows how dominating Leno is in any room. Not that Leno's doing it to prove he has hard feelings about retiring. In fact, the switchover from Jay Leno to Jimmy Fallon was an amicable one on NBC last year—far different from the Conan disaster a few years back. Leno and Fallon seemed fairly chummy throughout the transition, joking about it and even teaming up to sing about The Tonight Show rumors to make sure the PR around the transition was all positive. That's bowing out with grace.
Jay Leno may no longer be a late night host, but in many ways, he's more impressive on the other side of the desk, where he doesn't have to reign himself in or react in a listening capacity. His brief appearance on The Tonight Show certainly proves he's still in fine form.
Luckily, if you are interested in what Jay Leno is up to now that he's retired from late night TV, the man's got plenty of projects in the works. He's set to host his own show on CNBC called Jay Leno's Garage, which will be about those classic cars Fallon knows nothing about. He's also scheduled to pop up again on a late night program, soon. This week, The Late Late Show with Craig Ferguson announced Jay Leno will appear during Ferguson's last episode as a host. That episode will air on December 19, and will also feature a slew of other big names.
Your Daily Blend of Entertainment News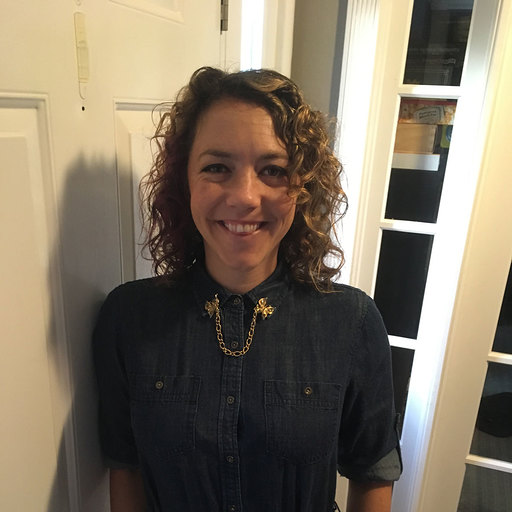 Reality TV fan with a pinch of Disney fairy dust thrown in. Theme park junkie. If you've created a rom-com I've probably watched it.