Watch Jeff Goldblum Tell Weirdly Adorable Stories About His Baby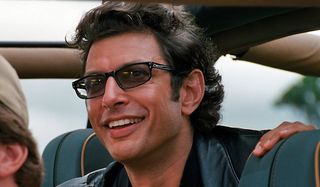 Those of you familiar with Jeff Goldblum know he's famous for being kind of a weirdo, a ball of neurosis with a penchant for playing oddballs and wingnuts of all stripes. That's why we love him in everything from The Fly to Jurassic Park to The Adventures of Buckaroo Bonzai Across the 8th Dimension. But that doesn't mean he can't be sweet and cute, too, like when he's telling Conan O'Brien about his new baby boy.
Okay, how freaking adorable is that? When you woke up this morning, how many of you thought to yourself, you know what, Self, I'd really like to see Jeff Goldblum show Conan O'Brien footage of his newborn son chewing on his nose? I wasn't thinking that either (okay, there are probably some of you who were), but I'm glad I had the chance to watch.
Telling Conan and sidekick Andy Richter about the new addition to the Goldblum clan, Charlie Ocean Goldblum—I know you were expecting something more out of left field as a name—the 62-year-old actor absolutely lights up as he rambles in his traditional stream-of-consciousness style. At first that weird, rubbing-a-baby-on-my-face motion he makes is a bit strange, but all is forgiven when he adds:
That's just too damn cute. Check out the nose sucking action for yourself.
In addition to being adorable as all hell, this is everything you expect from a Jeff Goldblum interview. As Conan O'Brien points out, you don't need notes, you just, "Say hello and madness ensues." One of our own recently had the opportunity to interview the actor and said pretty much the same thing; he got one question out and Goldblum took the topic and ran with it for the rest of the time. You just kind of have to sit back, hold on, and enjoy the ride.
Just the other day, Goldblum and company wrapped filming on Independence Day: Resurgence, the long-in-the-works sequel to 1996's Will Smith-starring mega hit Independence Day. He reprises his role as David Levinson, the hero of the first alien invasion, who learned that you can give extraterrestrials a Mac-compatible computer virus. Joining him this time around are returning players like Bill Pullman, Vivica A. Fox, Judd Hirsch, and Brent Spiner, as well as newcomers Jessie Usher, Maika Monroe, and Liam Hemsworth. That film is scheduled to hit theaters June 24, 2016.
You also may have noticed this summer that Goldblum did not reprise his role as Dr. Ian Malcolm in Jurassic World, much to the chagrin of many fans. He does have a sort of cameo, however, as he shows up on the back cover of a book early on in the film. That's better than nothing.
Your Daily Blend of Entertainment News
Thank you for signing up to CinemaBlend. You will receive a verification email shortly.
There was a problem. Please refresh the page and try again.