Watch Joseph Gordon-Levitt Cover Rihanna, Wear A Bowtie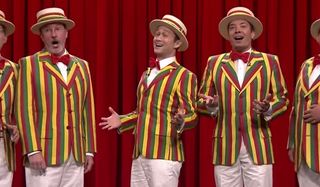 Late night host Jimmy Fallon has his fair share of running bits as the face of The Tonight Show, but one of the most fun has to be the barbershop quartet that shows up from time to time to perform peppy versions of popular songs that one wouldn't generally associate with a bunch of guys in striped shirts singing a capella. Known as the Ragtime Gals, the group is regularly joined by a visiting celebrity willing to lend vocals. In the group's latest performance, Joseph Gordon-Levitt transformed the barbershop quartet into a quintet for a rendition of Rihanna's "Bitch Better Have My Money." Check it out!
Joseph Gordon-Levitt fits in disarmingly well with the regulars of the Ragtime Gals. It's never easy to predict just who can pull of white pants, a red bowtie, a straw hat, and a striped jacket that looks like it was sponsored by Fruit Stripe gum, but Gordon-Levitt wore it well. Who knew?
Another surprise coming from his guest spot in the Ragtime Gals is that Joseph Gordon-Levitt can actually sing. His solo moments didn't need to be backed up by any of the other crooners, and the humor came not from a poor performance, but rather by his enthusiasm for his part in the song.
Of course, the bit wouldn't have been nearly as funny if the song had been any less absurd of a choice to be covered by a barbershop quintet. "Bitch Better Have My Money" was a fantastic selection of music that was so incredibly catchy and unexpected that it's difficult not to want to rewatch the clip a few extra times. The Ragtime Gals did tone down some of the lyrics for the sake of airing on network TV, but the immortal line of "Bitch better have my money!" was more than enough to make up for any censorship.
Although there was no reason to assume that Joseph Gordon-Levitt couldn't sing, he has been known best for roles that haven't exactly required him to burst into song. His big break came from the role of Tommy Solomon on 3rd Rock From The Sun for six seasons on NBC from 1996–2001. The premise of a group of aliens sent to earth to live as a human family was and is a bit silly, but the show had a stellar cast (including John Lithgow and Jane Curtin) that made it both fun to watch and a great starting point for Gordon-Levitt.
In the years since, he's jumped around from genre to genre in his most prominent roles. From the lovesick male lead of 500 Days Of Summer to an action hero in Inception to a key dramatic role in The Dark Knight Rises, Gordon-Levitt has been making the rounds in feature films on the big screen. As his appearance on The Tonight Show Starring Jimmy Fallon with the Ragtime Gals proves, however, he hasn't lost his touch for small screen comedy.
Resident of One Chicago, Bachelor Nation, and Cleveland. Has opinions about crossovers, Star Wars, and superheroes. Will not time travel.
Your Daily Blend of Entertainment News
Thank you for signing up to CinemaBlend. You will receive a verification email shortly.
There was a problem. Please refresh the page and try again.