Joseph Gordon-Levitt Looks Almost Unrecognizable As Edward Snowden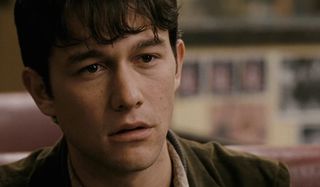 Ladies and gentlemen, we now have our first look at Joseph Gordon-Levitt as Edward Snowden, and it looks as though The Dark Knight Rises, Don Jon, and Brick actor will be completely disappearing into the role. You can check out the image below.
Only a truly vivid and evocative image can instantly incite excitement, so it speaks wonders for Snowden's debut still that you can't help but be immediately engrossed by Joseph Gordon-Levitt's impending portrayal of Edward Snowden. Not only is JGL already showcasing a brooding intensity, but there's something truly heart-breaking and complex about his gaze that suggests he has already wholly embraced his character.
But this wasn't the only image from the set of Snowden to emerge today. Joseph Gordon-Levitt also took to Twitter to upload a picture of himself on-set with Oliver Stone. In fact he also revealed that the legendary director was in the midst of taking his first ever selfie. And boy did he make it count, because he simply looks joyous in it.
This Tweet gives us a better look at what Joseph Gordon Levitt will look like for the most part in Snowden. And I honestly think it's good to see that he's not decided to dye his hair to try and exquisitely match the look of the National Security Agency whistleblower. More often than not, an actor's decision to radically change their look eclipses their portrayal, as it immediately takes you out of and distracts you from their performance. In this writer's opinion, Steve Carell's somewhat over-rated turn in Foxcatcher is a clear example of this.
Snowden promises to be at least a tad controversial. After all, it's being directed by Oliver Stone, and deals with with one of the most divisive news stories of the modern age: Edward Snowden's decision to leak classified NSA documents - which has seen him labelled as both a whistleblower and traitor, and resulted in him being granted political asylum in Russia. Stone loves to approach his subjects in a brash and borderline sensationalist manner so that he can fully extract every ounce of drama. This is something that I fully endorse, as his aim to provoke and entertain is never blighted by any worries for his reputation.
The fact that the stellar cast is rounded off by Shailene Woodley, Nicholas Cage, Mellisa Leo, Zachary Quinto, Tom Wilkinson, Rhys Ifans, Joely Richardson, and Timothy Olyphant, means that the film has all the raw ingredients to deliver. We'll see if that's the case when Snowden is released on Christmas Day.
Your Daily Blend of Entertainment News
Thank you for signing up to CinemaBlend. You will receive a verification email shortly.
There was a problem. Please refresh the page and try again.