Watch Kevin Hart Scream In Terror On A Roller Coaster With Jimmy Fallon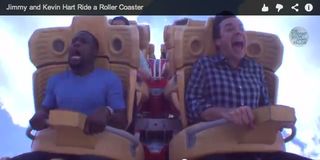 Jimmy Fallon's trip to Orlando continues to pay off, not only in its promotion of Universal Studios Orlando just in time for the summer season, but also to entertain us with goofy park shenanigans. Yesterday, it was a trip to the yet-to-be-opened Diagon Alley section of The Wizarding World of Harry Potter for a wand fitting with Higgins. Today, Jimmy Fallon has treated Kevin Hart to a roller coaster ride... one Hart seems reluctant to take.
Hart barely makes it past the height requirements before he and Jimmy Fallon board the Hollywood Rip Ride Rock It roller coaster at Universal Studios Orlando. From there, it's a lot of screaming...
And Jimmy's face collides with a bug. Gross! I guess he sort of had that coming though. Points to Hart for facing his fear and entertaining us with his hilarious reaction.
They make it back to the platform in one piece... and then Jimmy makes Kevin go for another ride.
The whole segment actually reminds me of those snippets of footage we see at the beginning of Knocked Up, when Seth Rogen's character and his friends are at Knott's Berry Farm and riding that roller coaster...
You can see Jay Baruchel over on the end, completely freaking out during the whole roller coaster ride. The bonus features on the DVD revealed that the How to Train Your Dragon star was really not into the whole roller coaster experience, so that terror and eagerness to get off the ride the second it was over seems to be the real deal. Funny stuff!
Jimmy Fallon is taping The Tonight Show Starring Jimmy Fallon from Orlando this week. We were hoping to see a bit more of Diagon Alley in last night's episode. Perhaps there's more in store for the Harry Potter themed area of the park coming soon on The Tonight Show as Fallon's trip to Orlando continues. In the meantime, if you haven't seen it already, watch the segment where Jimmy Fallon and Steve Higgins visit Ollivanders to be fitted for wands here.
Your Daily Blend of Entertainment News
Thank you for signing up to CinemaBlend. You will receive a verification email shortly.
There was a problem. Please refresh the page and try again.