Watch A Local News Anchor Get Interrupted In The Middle Of A Robbery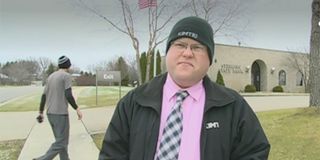 News reports often get interrupted when people are up to hijinks, including things like catcalling or generally being nosy in the background. However, it's not often that a second robbery occurs while a news reporter is on camera telling the story of a first robbery. Which is why it was such a surprise when Rochester KIMT News 3 reporter Adam Sallet was interrupted by a banker who was chasing after the robber. You can check out the wild video, below.
Reporter Adam Sallet was explaining what had happened earlier at Sterling State Bank when some commotion began to happen around him. At first we saw someone running from the bank. He interrupted the news broadcast, explaining that the robber was located across the street. At first, Sallet didn't know exactly how to respond, but then he sort-of figured it out, making his apologies to the camera and those watching at home. He also noted he had to go so that the news team could call the police. Although we didn't get to see the actual suspected robber on camera at the time, there was footage shot of the robber exiting the building just before the actually live news report started, prompting the bank employee to run out after the robber. You can catch that, below.
It's actually probably a good thing that the news didn't air the footage until after the police confirmed the person jogging out of the bank was, in fact, 36-year-old Ryan Liskow, who did allegedly rob the bank twice, once on Monday morning and then again on Tuesday this week. The footage showed a man walking slowly into the bank as Sallet was prepping for his live report. The man eventually left the bank and jogged away, which only looked mildly suspicious until the banker followed him out. Adam and the team did end up calling the police after the incident occurred. The officers came by to chase the suspect in Rochester, Minnesota and Sallet later reported on Twitter that the suspect had been apprehended.
So, it was a job well done by the news team and the bank employee after the second robbery this week. Robberies are pretty serious to have to deal with, but it seems like the incident was handled with aplomb and the police landed their suspect.
Amazing Race & Top Chef superfan with a pinch of Disney fairy dust thrown in. If you've created a rom-com I've probably watched it.