Watch A Reporter Get Sexually Harassed During A Report On Sexual Harassment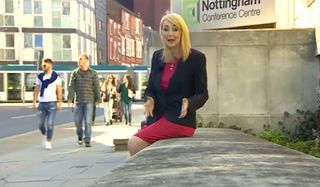 Street reporters frequently have to deal with shenanigans in the background, from people waving to random pranks. Most of the time, the nonsense going on is harmless and can sometimes even be amusing; however, on occasion people in public can be really hostile. Recently, BBC reporter Sarah Teale was filming a segment on sexual harassment on the streets when she was actual harassed by a random passerby. You can see the wild interaction go down, below.
While some news segments are more lighthearted, Sarah Teale was filming by the Nottingham Conference Center earlier this week to talk about sexual harassment. Shortly after she dropped the bomb that 95% of people responding to a recent study said they had been harassed (including everything from catcalling to even being touched inappropriately while in public), she was harassed herself. As soon as she stated the 95% fact, a couple of dudes who were walking by literally shouted obscenities at the news reporter while she was still on camera.
Because it is a BBC segment, the network bleeped out the obscenities that the man said to the reporter, so we can't report exactly what they are (although you can guess). Teale did later take to social media to explain that the man had shouted obscenities of a sexual nature at her. So, it wasn't like he just shouted "Fuck the BBC" or something distasteful but harmless to the reporter herself. Instead, according to the reporter, the comment was pretty personal.
Teale handled the situation pretty adequately while on camera. After the man finished his obscenity, she connected it with the story at hand, noting his commentary was just an example that proved her point. This isn't the first time we've seen an anchorwoman harassed on camera this year. One sports reporter in Toronto was notably had the phrase "fuck her right in the pussy" thrown at her by a group of men while interviewing at a soccer game. She later confronted the men on camera about their use of foul language and obscene statements.
Luckily, a lot of the interactions during news segments are a whole lot less charged. I don't think most reporters even notice when people get up to goofy stuff in the background behind the camera, like this kid who tripped while trying to show off and hop a fence, or this guy who purposely sprinted to a location where the news was being shot to show off to his friends. There's a line between goofy shenanigans and outright upsetting behavior, and it's not exactly a fine line. Here's to hoping that 95% stat will go down in the future.
Reality TV fan with a pinch of Disney fairy dust thrown in. Theme park junkie. If you've created a rom-com I've probably watched it.
Your Daily Blend of Entertainment News
Thank you for signing up to CinemaBlend. You will receive a verification email shortly.
There was a problem. Please refresh the page and try again.