Watch A Local News Station Seemingly Fake A Car Accident For A Story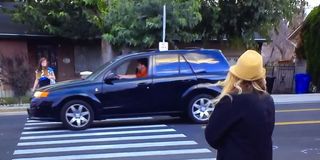 Every day the local news keeps on churning out content for local viewers, and every day leads to more opportunities to totally catch hilarious flubs and ridiculous fake segments when they air live (or are immortalized on the internet later). Recently, Fox 13 local news in Utah recorded a puff piece about teens getting hit in crosswalks when walking and then seemingly faked a teen getting hit in a crosswalk to make their point. It honestly looks pretty outrageous, and you can give it a watch, below.
Look, it's hard to be the local news. Whether or not you have real footage related to the topic you want to discuss on the air, you have to keep trucking forward, producing video footage of some sort for every episode. Now, most news channels would probably just do a reenactment or interview teens who knew someone who got hit in the crosswalk for this sort of segment, but I guess you have to give Fox 13 credit for going big rather than going home. It's pretty ballsy, though, when the guy says "cameras were rolling" when another girl was almost hit. I mean, c'mon. The car is basically stopped, then the girl starts walking before he purposefully "tries" to run into her at like 1 mile an hour. If you are going to reenact, at least make it good.
I personally love how the girl seems totally fine and then several seconds later she seemingly collapses on the ground due to being "so shaken up." Also probably walking backward near a curb doesn't really help. Here's the tumble.
Obviously, sometimes these crazy news moments really do happen live on TV. Sometimes reporters are put into dangerous situations or harassed on the streets. Sometime car accidents do happen during a news report. Sometimes kids cry on camera or dumbasses get up to shenanigans in the background. Sometimes heroes even save racks of ribs in fires. These things do happen (although I'm presuming sometimes these moments are completely contrived, just done with some more finesse than this crosswalk segment).
The note we should take from this story: It's funny, interesting or at least truthful when these moments happen live on the air, but it looks absolutely silly when networks attempt to contrive them. Still, we hope other channels make similar mistakes in the future so we can joke about them along the way.
Reality TV fan with a pinch of Disney fairy dust thrown in. Theme park junkie. If you've created a rom-com I've probably watched it.
Your Daily Blend of Entertainment News
Thank you for signing up to CinemaBlend. You will receive a verification email shortly.
There was a problem. Please refresh the page and try again.