Watch Miss Piggy Flip Out At Kermit The Frog In Latest Muppets Video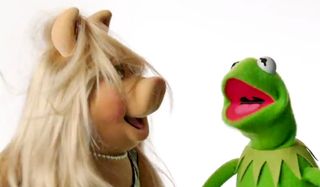 They say hell hath no fury like a woman scorned and judging by the behavior of Miss Piggy in this recent promo for the upcoming ABC reboot of The Muppets, the saying seems entirely accurate. Take a look:
Ever the diva, Miss Piggy begins the promo taking center stage, but then proceeds to tumble to the floor in dramatic fashion. Ever the gentleman, Kermit tries to help her to her feet, only for Piggy to lash out. Neither needing nor wanting to "start over" with him, Kermit insists he only means the promo – cue one final awkward beat.
The promo itself keeps with the new direction of The Muppets for a number of reasons. It upholds the recent, and significant, alteration of the long standing status quo in that Kermit the Frog and Miss Piggy will no longer be a couple when the show premieres – only solidified by Miss Piggy's awkward advances towards fellow ABC stars in previous promotional materials.
We can likely expect a romantic tension between Kermit and Piggy to represent a pivotal, long running plot point throughout the show – think Jim Halpert, and Pam Beesly from The Office, but as puppets. These storylines can often prove the most successful for a TV sitcom, and let's be honest, after committing so many years to their rocky relationship and marriage, we want to see how this pans out.
Beyond that, unlike the previous Muppets show, which had a variety show format, this upcoming reboot will emphasize the events that occur in the background of their TV series, and use a mockumentary style to peer into the personal lives of the titular ensemble. The promo seems to perfectly capture the type of storylines we will see when The Muppets premieres. Sure, they're performers known throughout the world, but in the end the show will emphasize their interpersonal drama, and relatable daily struggles. In this way The Muppets seems to take a cue from the successes of contemporary shows such as 30 Rock or Entourage, and adapting the format to fit their particular brand of humor.
By making this change and moving away from the variety format, The Muppets opens up more doors to explore myriad thematic elements and topics that can appeal to young and older audiences alike. Doing this casts a much wider net and increases the chance of acquiring viewers.
The Muppets will make their glorious return to television on Tuesday, September 22 on ABC.
Originally from Connecticut, Conner grew up in San Diego and graduated from Chapman University in 2014. He now lives in Los Angeles working in and around the entertainment industry and can mostly be found binging horror movies and chugging coffee.
Your Daily Blend of Entertainment News
Thank you for signing up to CinemaBlend. You will receive a verification email shortly.
There was a problem. Please refresh the page and try again.