Watch Nick Offerman In The Greatest Home Depot Commercial Ever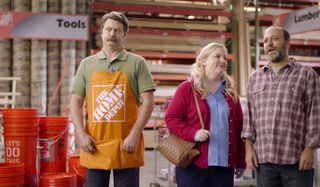 Last Week Tonight with John Oliver has been great at pinpointing cultural issues and bringing them to the masses with plenty of wit. This week, the show decided to go a little more pop culture-oriented, creating a Home Depot commercial to poke fun at Lowe's, which recently revealed it would be introducing robots instead of salespeople in one of its stores. You can catch the Last Week Tonight segment, below.
In the video, John Oliver explains a little bit about the Oshbot robots which are being tested at one California Lowe's store. He makes fun of the ad from the company, during which one actor describes the robot as his new "friend." Yes, really. Then he launches into an explanation of how salespeople are an integral part of the hardware store experience, keeping couples from totally losing their shit when they are arguing over what to buy and what not to buy. The rest of the video is a hilarious blow-by-blow for how he feels Home Depot should advertise against Lowe's moving forward. The faux commercial starts at the 2:15 mark.
Of course, it's Movember, and Last Week Tonight with John Oliver signed on the best 'stache in the business, Nick Offerman, to star in the faux commercial as a Home Depot employee with a knack for helping couples forget their troubles. Are you fighting over what plant to buy your Ma before she moves in with you and your wife? No worries, the Home Depot guy will distract you! Are you arguing over the porn your wife found on the iPad mini? Don't worry, there are some excellent ceramic titles just around the corner! Here's how the Parks and Recreation star looks in one of those horrible orange smocks.
Go On's Sarah Baker and Archer and Bob's Burgers' H. Jon Benjamin (bringing the whole Movember thing full circle) also star in the commercial as the angry couple working out their issues in the cold, concrete building that is Home Depot.
This isn't the first time that Oliver has managed to be extremely topical. Last Week Tonight with John Oliver has also made headlines with a few epic rants on net neutrality and the rise of student load debt. He's often a man that wants to bring humor to serious news topics, but it's nice to see him change things up and poke fun at a major corporation every now and again.
By the way, his ideas regarding the Lowe's advertisement are spot-on. You can catch the whole Lowe's robot segment on the next page. That creepy dude with the robot "friend" shows up around the 2-minute mark.
Amazing Race & Top Chef superfan with a pinch of Disney fairy dust thrown in. If you've created a rom-com I've probably watched it.
Your Daily Blend of Entertainment News
Thank you for signing up to CinemaBlend. You will receive a verification email shortly.
There was a problem. Please refresh the page and try again.