John Oliver's Net Neutrality Rant May Have Caused The FCC Comments Site To Crash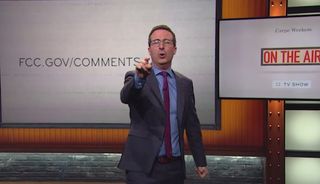 "We need you to get out there," John Oliver urged to internet commenters everywhere on Sunday night. "And for once in your lives, focus your indiscriminate rage in a useful direction. Seize your moment, my lovely trolls. Turn on caps lock and fly my pretties, fly! Fly!" Along with that rallying cry, Last Week Tonight host John Oliver presented the link to FCC.Gov/Comments, encouraging people to lodge their complaints with the FCC, which is now being run by Tom Wheeler, who was once a lobbyist for cable companies. The result of Oliver's ranting appears to have made an impact, because it looks like FCC's website crashed on Monday afternoon.
First and foremost, if you haven't watched it yet, here's the clip from Last Week Tonight, John Oliver's weekly HBO news show. It's a pretty great watch from beginning to end, but if you just want to see the part where he tells people to make an effort to prevent "cable company fuckery" by taking advantage of the FCC's comment page, start it up at about the 10:40 mark:
According to Deadline, the FCC experienced a bit of high complaint volume following the Last Week Tonight episode, which led to them issuing the following tweet:
And this followup...
After watching Oliver's rant, I wouldn't be surprised if people really were stirred to action enough to want to vocalize their own opinions via the FCC's comment page. Oliver makes a pretty persuasive argument about these issues. "The internet, in its current form, is not broken," he says near the start of his commentary. "And the FCC is currently taking steps to fix that." From there, he goes on to talk about net neutrality and how it would affect businesses. "Ending net neutrality would allow big companies to buy their way into the fast lane, leaving everyone else in the slow lane."
Oliver eventually talks about the cable company monopolies, comparing cable companies to drug cartels that would intentionally avoid each others' territory. A clip of the Comcast CEO talking about how Comcast and Time Warner are in different areas of the country, and thusly not competing with one another plays. Oliver's response is, "Exactly, you can't reduce competition when nobody is competing. You could not be describing a monopoly more clearly if you were wearing a metal top hat while driving a metal car after winning second prize in a beauty contest."
Because this is John Oliver (Community, The Daily Show), there's plenty of humor (and some Australian accents) worked into the rant, including a remark about the cable company's administering the truth in boring doses. "The cable company's have figured out the great truth of America. If you want to do something evil, put it inside something boring."
It all leads into the big speech, which Oliver directs toward internet commenters that he likens to the Karate Kid, mastering their craft and ready for the All Valley Tournament....
It looks like Oliver's words have done the trick.
Assistant Managing Editor
Kelly joined CinemaBlend as a freelance TV news writer in 2006 and went on to serve as the site's TV Editor before moving over to other roles on the site. At present, she's an Assistant Managing Editor who spends much of her time brainstorming and editing feature content on the site.
Your Daily Blend of Entertainment News
Thank you for signing up to CinemaBlend. You will receive a verification email shortly.
There was a problem. Please refresh the page and try again.