Watch John Oliver Rant About Student Debt On Last Week Tonight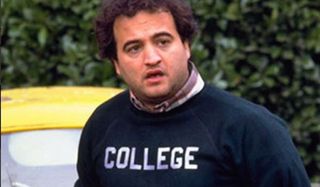 Last Week Tonight with John Oliver has made a habit of pushing relevant topics in a manner that is funny and manages to work for a platform that only airs once a week. He made waves recently when tackling the net neutrality argument, and this week he covered the equally controversial topic of student loans. Check it out, below.
The segment starts out innocuously enough, with shots of happy students wearing caps and gowns and looking as if they've achieved something. However, as Oliver notes, student loans are like HPV—most people are "almost certainly" going to get them in college. Here's what else he has to say in the introduction.
Oliver is great for jokes, but he's even better when he's slipping in the jokes between serious pieces of news. The story mentions that 7 out of 10 students will leave with debt, making student debt a bigger enterprise than the debt accrued from credit cards or auto loans. Additionally, footage from expert Barmak Nassirian pops up, during which the man notes that student loan debt is "the most collectible kind of debt there is."
If you've ever wanted to know about the history of student loan debt and why it has seen so much growth in the past decade, look no further than the Lyndon B. Johnson administration, which wanted to offer an "escape from poverty." In the years since, for-profit schools have become a huge business, and now account for about 30% of student loan debt. Even worse, recruiters for these schools are often told to focus on "pain points" for low income recruits. So, if you work at McDonald's and want a better life for yourself, a typical recruiter might use that to sell you on a for-profit school. But don't take it from me. Oliver has a much wittier way of explaining student loans in the United States.
Last Week Tonight has been a great venue for John Oliver. I was a little skeptical that the format would not work with only one episode a week, but so far the former Daily Show employee has focused on interesting, lengthy and relevant information that makes his show a standout on HBO. It's too bad the subscription cable network doesn't want to budget Oliver in for a few more days a week. No doubt we would watch.
You can catch HBO's Last Week Tonight on Sundays at 11 p.m. ET.
Reality TV fan with a pinch of Disney fairy dust thrown in. Theme park junkie. If you've created a rom-com I've probably watched it.
Your Daily Blend of Entertainment News
Thank you for signing up to CinemaBlend. You will receive a verification email shortly.
There was a problem. Please refresh the page and try again.