Watch Norman Reedus Explain How Drunken Yelling Got Him Into Acting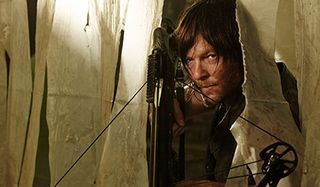 Anyone who is a fan of The Walking Dead should know that series lead Norman Reedus moves to the beat of his own drum. The actor is known for licking people and even living in the woods while the popular AMC drama is shooting. So, should it come as a surprise that Reedus has an equally wild story behind how he initially got into acting? Definitely not. Even though it shouldn't come as a surprise, this story Reedus told Jimmy Fallon is hilarious. You can check it out, below.
Like many key actors, Reedus apparently had humble beginnings. In this story, he humorously talks about how he was busy working for and then getting fired from a motorcycle shop. After he got fired, he got way too drunk and started yelling at people at the party, according to this story he told on The Tonight Show. Instead of backfiring, he ended up attracting the notice of someone involved with a play and they hired him on the spot. That's not the end of the story, as there's further detail about the play, but really, how could Norman Reedus getting into the biz story not involve something as outrageous as being drunken and obnoxious to gain notice? We wouldn't have it any other way.
I've always found it interesting that Reedus' Walking Dead character, Daryl, has some startling similarities to his character on the show, but Reedus has been open about how he has changed himself to suit the character rather than the other way around, noting that he used to be terrified of bugs and didn't have crossbow skills before starting with The Walking Dead. Somehow I could never imagine the character of Daryl acting in a play, however, and he's probably a little too mulling to get up to some of the shenanigans that Norman Reedus has gotten up to in his life.
Luckily, the whole acting thing panned out. After taking roles in a bunch of random movies, Reedus' stock grew after he starred in the cult film The Boondock Saints. Roles in The Conspirator, Bad Seed and more followed, until Reedus decided to go to Los Angeles for pilot season just as AMC was bringing together The Walking Dead. The actor has said in the past that he was excited for any gig on the show, but the creative team went one further and actually wrote a starring role for the actor. So, Reedus went from some drunk dude to an intense zombie killer. That's some sort of twisted fairy tale.
If you'd like to catch Reedus in action every week, you won't have much longer to wait. The Walking Dead returns for Season 6 on Sunday, October 11 at 9 p.m. ET. You can check out everything we know about the upcoming season, here.
Reality TV fan with a pinch of Disney fairy dust thrown in. Theme park junkie. If you've created a rom-com I've probably watched it.
Your Daily Blend of Entertainment News
Thank you for signing up to CinemaBlend. You will receive a verification email shortly.
There was a problem. Please refresh the page and try again.