The Walking Dead Season 6: What We Know So Far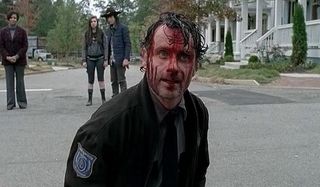 When The Walking Dead brought Season 5 to a bloody and disastrous 90-minute end earlier this year, the show was rewarded with one of its biggest audience to date. Everyone wanted to watch the ever-present rift between Rick's crew and the Alexandria citizens grow even larger, and that is absolutely what happened.
It won't be long now before we're sitting down and taking in all the guts and glory that Season 6 has to offer, we're bringing together everything we currently know about the upcoming season. And without further a-Daryl, let's smear walker gunk all over ourselves and head into the wild.
When The Walking Dead Season 6 Will Air
AMC renewed The Walking Dead for Season 6 last October, and the season will premiere just over a year after. Audience can expect to find this next chapter kicking off on Sunday, October 11, a week after the former ratings monster Fear the Walking Dead caps off its debut season.
What New Characters Will Show Up?
More so than any other series on TV beyond maybe Game of Thrones, The Walking Dead is excellent at introducing new characters to its audience, some meant to stick around for a long time, with others only given a small purpose before meeting a grisly demise. Season 6 will be no different, as the show enters one of the more populous story arcs from the comic series.
As seen above, Straight Outta Compton star Corey Hawkins is taking on the role of the dread-headed fan favorite comic character Heath, a supply runner who with courage to spare. It's not quite clear how he'll be introduced, but the creative team has stated that just because we didn't see some Alexandria residents in Season 5 doesn't mean that they didn't exist.
Ethan "That Guy Who's Seemingly Been In Everything Since The 1990s" Embry joined the cast as a character named Carter. If that doesn't sound familiar, it's because he is indeed a character that wasn't from the comics and is exclusive to the show. That said, showrunner Scott Gimple has called him an amalgamation of several comic book characters, and it doesn't seem like he'll have the most amazing relationship with Rick. But then not a lot of people really do.
Nurse Jackie star Merritt Wever will play Denise Cloyd, another significant character from the comic books. She's a medic, and after Pete's righteous death in the Season 5 finale, she becomes one of Alexandria's most important citizens. In the comic, she's in a relationship with Heath and eventually performs one particularly dire surgery on a major character, but it's not clear if either of these points will be addressed in the TV series.
Salem star Xander Berkeley was cast recently in a mystery role that Gimple and Kirkman aren't revealing just yet, but we're pretty sure that it's the egotistical Hilltop Colony leader Gregory. He's described as narcissistic, self-preserving and full of the same kind of charm that senators and car salesmen have.
My favorite of all the new castings - something I'm sure is also the case for other comic fans out there - is the addition of Paul "Jesus" Monroe to Season 6. The bearded and ski cap-wearing warrior will be played by British actor Tom Payne, who was in HBO's Luck and the U.K. miniseries Wuthering Heights. We can't wait to see how he'll be introduced.
Other than these folks, we've seen casting calls for other characters, though no announcements have been made on who will be playing them. Most important is the biggest bad guy of them all, Negan, whose casting announcement features just about every adjective one can use to describe a sociopath, and confirms that he'll appear in the Season 6 finale. There's also a code-named married couple, comprised of the non-jaded Kirk, who realizes his good nature may have to change in order to continue surviving, and his wife Hilda, who was only described as attractive and strong. Hopefully we'll have more news about who these characters really are in the near future, as well as announcements for even more of them.
What Characters Won't Be Back?
Season 5 did an excellent job of killing off characters, something Walking Dead fans are used to at this point. We said goodbye to Bob, Beth, Tyreese, Noah, that bitch Dawn, and Gareth and his Terminus crew. As for the Alexandria group, the casualties included Deanna's husband Reg and son Aiden, and Jessie's husband Pete. (Also, R.I.P. Buttons the horse.) We might catch Pete haunting Rick's nightmares when Season 6 starts, but we've probably seen the last of everyone else.
What Have We Seen From Season 6 So Far?
Comic-Con 2015 revealed the show's first trailer, and it's a huge one, proving that things will be just as scary and loud as promised. Check it out.
There have been a bunch of other TV spots for Season 6 that have popped up over the past couple months, as seen below, but they're all basically a stripped down version of the massive trailer above. Still, all footage is good footage, right?
There are a couple of other things, too, like the image above, created as a poster for this year's Comic-Con, which (like the trailer) has us wondering just where Morgan's loyalties will lie, as it seems to show both groups of survivors standing off against one another. With Father Gabriel on the Alexandrians' side, of course, because he's a sell-out rat bastard.
The Fear the Walking Dead premiere offered up this atmospheric promo, which doesn't contain any actual show footage, but puts us right in the faces of all the characters we've come to know and love over the years.
Otherwise, we've seen a couple of sweet shots of the various walkers that are coming in Season 6, many of which are more disgusting than ever.
Where Did Season 5 Leave Things?
While the first half of Season 5 was dedicated to the Terminus storyline and how that particular brand of carnivores affected Rick & Co., the second half got a lot more interesting as everyone seemed to find safety and refuge within the walls of Alexandria. Of course, safety and refuge don't make for the most interesting horror-based drama, so of course things took many dark turns.
Rick Killed Pete
It was almost immediately obvious that Rick and Pete were going to come to blows – even for those who weren't familiar with the comics – as Rick was a little too interested in Jessie, Pete's wife. Plus, there was mild evidence that Pete was abusing her and their son Ron. The two men had gotten into a scuffle previously, causing some to view Rick as too impulsive, but after a drunken Pete accidentally murdered Deanna's husband Reg, she gave Rick the go-ahead to put Pete out of everyone's misery. But even though Deanna allowed it to happen, Rick will undoubtedly still be viewed as something of a monster by others when Season 6 begins.
Morgan is back
And one of those people may be Morgan, a character who spent much of Season 5 tracking down Rick and the rest of the survivors. He'd had his own personality switch-up, as he'd gone from a grief-laden suicidal maniac to a zen master skilled in the art of, if not war, then forest-bound roughhousing. He teamed up with Daryl and Aaron in stopping a surprise horde of zombies, and then followed them back to Alexandria, where his first look at his old pal Rick was of him covered in zombie gore and standing over a dead body while holding a smoking gun. Not exactly the most pleasant of circumstances, and we know that Rick and Morgan are going to be on opposing sides for at least part of next season. We can't wait to see how things pan out.
The Wolves are Out
And if inner-location strifes weren't bad enough, we now have the Wolves to look forward to as antagonists for an undetermined period. These graffiti-leaving threats first showed their faces in the finale after months of populating the area with walkers that had "W"s carved into their foreheads. They don't appear to be the most dangerous group, as the two we were introduced to were initially outwitted by Morgan (who, like a Carl-ish dolt, left them alive) and then their truck-filled walker trap didn't actually kill anyone. They did manage to kill a guy by the end, but it's still unclear what their gameplan is as far as doing damage to the Alexandria community.
What Can We Expect From Season 6?
Season 6 is taking Walking Dead fans and characters to places unseen until this point, at least metaphorically. We've seen Alexandria, of course, but we haven't seen just what it means to the people who live there just yet. And we've seen what's outside the walls, but we haven't yet explored all the places beyond. Here are a few notable plot points that showrunner Scott Gimple and creator Robert Kirkman have teased.
Morgan Vs. Rick
This bit of dual antagonism will probably be more of a battle of ideals over outright fisticuffs - or gun-ticuffs, as we are dealing with Rick Grimes here - but that doesn't necessarily mean it'll be free of dramatic hoopla. Morgan has obviously come a long way since his freakouts a couple of seasons ago, and it seems like he's mentally more in tune with Deanna and the Alexandrians. But maybe it'll just be his ideals guiding him as he assimilates, and he'll later understand that these folks aren't direct survivors so much as people who have just stumbled their way into not dying yet. Either way, these two men have known each other since the beginning of the outbreak, and we can't see that unique bond breaking just yet.
The Biggest Zombie Horde Ever
As revealed at Comic-Con earlier this year, the Season 6 premiere will feature over 650 walkers as part of a massive herd that breaches Alexandria's gates following the events of the Season 5 finale. A large chunk of them are seen in the premiere, and it looks like they'll be lurking around every single corner of the current safe haven. It's going to take an amazing amount of Michonne's sword-slicing and Rick & Co.'s firepower to put an end to this threat before the walkers completely wipe out everything that this community has worked so hard to achieve. Truth be told, we can't wait to see how much damage is done.
A Flashback Episode
This is one of the more intriguing reveals about Season 6, as the only real flashbacks we've seen in this show, beyond those of Rick prior to the apocalypse, revolved around The Governor. Some think that we might get to follow Morgan around during his time on his own, while others think that we may spend some time with Alexandria's founder and former leader Alexander Davidson, who was cast out of the community after some untold foul deed. (I'm really hoping both of these come into play.) Of course, we might spend time with some of the new characters, or maybe we'll get to see Rick and Lori on their wedding day. It's all up in the air at this point, beyond the fact that the episode is set to air around the midseason break.
Negan?
Most comic book fans have been waiting for Negan to show up since the TV show started, as he's one of the most hardcore and ruthless villains in all of modern pop culture. Swinging a barbed wire-covered bat named Lucille, Negan takes no prisoners exactly, but holds everyone to his own rulebook, and his presence on TV will add a supervillain dynamic that's been missing since The Governor perished. We probably won't see much of him in Season 6, if we see anything at all, but it's been teased that he could show up in some capacity in the second half of the season. Just look for the smokestacks.
Where Can I Catch Up On Past Seasons of The Walking Dead?
Seasons 1 through 5 of The Walking Dead are currently available on Netflix. Alternately, Season 5 hit DVD, Digital and Blu-ray on August 25, so fans can purchase it to catch up on all the mayhem before Season 6 starts up.