Watch Rob Lowe Berate His Parks And Recreation Co-Stars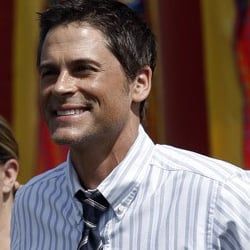 Parks and Recreation finally returns to NBC on Thursday night, and though it won't be replacing Outsourced and returning that night's comedy block to its former glory, its return is good enough news for me. It's good news for the cast, too, who have been tragically kept off our television screens since last May. According to a new video at Funny or Die, though, it's not good news at all for newly added regular Rob Lowe, who wasn't aware he was off the air to begin with.
Yes, this is another one of those viral videos in which a star pretends to have a freakout on the set and slings obscenities at everyone near him. But this one is genuinely funny, not only because its features the hilarious Parks & Recreation cast, but because it's shot in the faux-documentary style of the show, and nicely straddles the boundary between real life-- Amy Poehler meekly reminding Lowe she was on SNL-- and the show-- Aubrey Plaza rolling her eyes in the background of the shot. Basically it's a reminder of how ridiculously funny Parks & Recreation is, and how lucky we are that it's finally coming back.
Check out the video below, and watch the show when it triumphantly returns on Thursday, while I'm busy during my first day at Sundance and secretly jealous I'm not at home watching with the rest of you. No, seriously.
Rob Lowe Goes Nuts from Rob Lowe
Staff Writer at CinemaBlend
Your Daily Blend of Entertainment News
Thank you for signing up to CinemaBlend. You will receive a verification email shortly.
There was a problem. Please refresh the page and try again.