Watch Steph Curry And More Take Shots In Latest Mean Tweets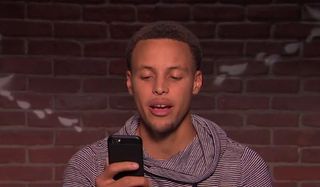 The Internet: a place where information and knowledge can flow freely for the betterment of mankind. I'm totally kidding; the Internet is apparently just a place where we can anonymously be terrible to one another with complete impunity. Twitter has become a place where inflammatory comments make for some of the best entertainment around, and some high-profile NBA players recently took center stage to read some Mean Tweets about themselves. Check out the video below to see for yourself.
The latest installment of the Mean Tweets segment on Jimmy Kimmel Live has got to be one of the most savage to date. We've all become familiar with the format by now: celebrities sit in front of the camera, and respond to some of the meanest tweets that Twitter users have posted about them. Some of them are fairly standard, and more or less playful in nature – such as a comment about Andre Iguodala's bad body language and scowl – but others are downright mean – such a the assessment that NBA MVP Steph Curry never quite made it all the way through puberty.
Out of all of these Mean Tweets, I have to say that my favorite one is also one of the quickest. When Russell Westbrook reads that he apparently looks like Jar Jar Binks, the entire crowd goes wild, but he seems confused and claims that he doesn't even know who Jar Jar Binks is. If only the rest of us could be quite as lucky as you, Mr. Westbrook.
I suppose at the end of the day having millions of dollars in the bank and an insane level of athletic ability probably makes a lot of these mean comments roll off the backs of NBA players. Most of the players who read these Mean Tweets either shrug them off or have the ability to laugh at themselves. However, it's basketball icon Shaq who knows how to give it as good as he can take it. As soon as he reads a tweet from Twitter user @mrbooklynsk saying that he's a "fat ass old man," he simply looks into the camera and deadpans, "that your mother loves very dearly." That's why we absolutely adore you, Shaq.
With the NBA championship in full swing, we have a feeling that Twitter won't be laying off these guys anytime soon. The Golden State Warriors currently lead the Cleveland Cavaliers 1-0 in the finals; be sure to stay tuned for more awesome details!
Originally from Connecticut, Conner grew up in San Diego and graduated from Chapman University in 2014. He now lives in Los Angeles working in and around the entertainment industry and can mostly be found binging horror movies and chugging coffee.