Watch Steve Harvey's Favorite Family Feud Dumb Answers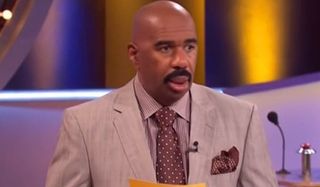 The long years of Steve Harvey's stand-up comedy career certainly qualifies him for other engagements. His five years thus far as host of Family Feud continue to suit him perfectly, especially when he is reacting to some of the perplexingly ludicrous answers from contestants. The host recently sat down to discuss some of his favorite ridiculous replies.Give it a watch.
The idea of normal people being put on the spot in a game yielding awkwardness is hardly a unique concept. Yet, there seems to be something especially rattling to the average contestant when it comes to the show's family dynamic that renders contestants both guarded yet unwittingly honest at the same time. While that has always been true in the 39-year history of Family Feud, the evolution (or devolution) of culture seems to be overflowing with outlandishness, leaving some easy pickings for Steve Harvey that has inspired a look that has come to be known as the "WTF face." As Harvey explains, every show gives him a reason to showcase this incredulous grimace.
A person in a no-pressure, rational state of mind might have answered the seemingly basic inquiry, "name something that follows the word 'pork'" with a standard answer like "chop" or even an associative one like "beans." Yet, to Harvey's devastating disbelief, one contestant's answer of suggesting to follow "pork" with the impromptu suffix, "cupine" was either a sarcastically spiky attempt to fabricate a YouTube moment by being a smartass on television, or simply reflects a stunning inability to listen to basic instructions. According to Harvey, that particular taping was stopped for twenty minutes as he was left in a complete state of disbelief and possibly found himself left just a little sad for the state of future generations.
However, in another example in the interview with Yahoo!, Harvey says that sometimes the answers are just so astonishingly random and nonsensical that he is rendered reaction-less. One such example shown was when he asked a contestant, "Name something that women wear that was obviously designed by men because they're uncomfortable, but sexy." Just about anyone could name high heels, thongs or even a historical throwback of corsets as easy answers. However, inexplicably, the man simply said, "Texas, Steve. Texas." While Harvey breaks out the standard WTF face, the sounds of the contestant's family teammates are actually audible in saying "good answer!" Left in a complete state of disbelief, Harvey even has the man repeat the answer, after which he is left speechless.
Harvey offers a rather interesting theory on the contestant dynamic as it has taken shape across some of the regions of the United States. He posits that families who are from the North who are a little posh will bring the dumb answers due to them being generally out of touch with the rest of the world. Likewise, he claims that people from the South, especially those who have lived in one area their entire lives, often are less inhibited. According to him, they typically yield a brand of answers that upgrades the absurdity to a level he describes as "incredible."
You can catch Steve Harvey on Family Feud airing Monday through Friday; check your local stations for times. On the other hand, Celebrity Family Feud can be seen Sundays at 8 p.m. on ABC.
Your Daily Blend of Entertainment News
Thank you for signing up to CinemaBlend. You will receive a verification email shortly.
There was a problem. Please refresh the page and try again.