Watch The Tudors Season 4 Premiere Right Here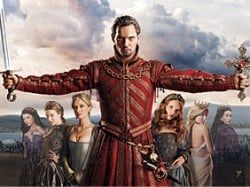 Jonathan Rhys Meyers may be facing his most challenging performance yet, as Showtime's The Tudors revs up for its final season, and Meyers prepares to take King Henry VIII on "his final descent into madness," according to the network. Premiering April 11 at 9 PM ET, Showtime has made the premiere available now via YouTube.
Season three saw the British monarch wind his way through a few more lovers, before settling on Catherine Howard (Tamzin Merchant), as well as losing his chief minister, Thomas Cromwell (James Frain) and suppressing a rebellion. Darker days lie ahead for Henry, and the final season promises to be fraught with tension and terror for any around him.
You can check out the first episode here, so you have time to add Showtime to your cable or satellite package fore the formal premiere next month:
The Tudors fourth season premieres on Showtime on Sunday, April 11, 2010 at 9 PM ET.
Your Daily Blend of Entertainment News
Thank you for signing up to CinemaBlend. You will receive a verification email shortly.
There was a problem. Please refresh the page and try again.