What The Grey's Anatomy Cast Knew About McDreamy's Exit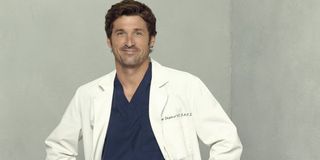 When Patrick Dempsey made his abrupt exit from Grey's Anatomy a few months ago, the news was shocking to many audience members who have stuck with the show over the years. As it turns out, Dempsey's final arc was a bit of a surprise for even some of the Grey's Anatomy cast members. Here's what James Pickens, Jr., who plays Dr. Richard Webber, recently had to say.
A lot of times when popular actors are leaving hit TV shows, we learn about them well in advance, as happened with Nina Dobrev's exit tonight on The Vampire Diaries, However, Pickens Jr.'s statement to ABC News seems to indicate that the cast was mostly in the dark that Dempsey was leaving the series, getting information up to the last minute before the big scene went down. The move is similar to the one The Good Wife made a little over a year ago when Josh Charles decided to leave the show. The CBS drama kept that exit successfully under wraps until Charles's character was killed off in one of the most shocking scenes TV has had to offer in recent memory (and yes, I watch Game of Thrones).
Here's the spoiler-filled version of what happened in the episode, if you haven't caught it yet. As Derek was driving down a windy road, he happened upon a car accident between an SUV and a sports car. Since Derek is a doctor, he gets out and attends to people in the accident just before the sports car catches fire and explodes. Miraculously, he's alright through this incident, but when he returns to his vehicle a few moments later, a truck comes out of nowhere and slams into his car, causing a second accident. Mistakes are made once he's taken to a hospital. And that's it. The sad and tragic end of Dr. Derek Shepherd.
It was a raw episode and it left fans pretty wounded. Of course, some fans may have had a little bit more of an inkling regarding Dr. Derek Shepherds' climactic ending on the series before it happened. The rumor mill had been abuzz a few months before that the actor would be leaving the show before next season. So, when the preview before the big episode seemed to indicate there would be an accident on the road and McDreamy would be on the scene, it didn't bode well for that feeling in the center of our guts. But seeing him get killed off of the drama was still a total shock, and it looks like everything came together quickly on the set, as well.
James Pickens, Jr.'s words echo what Dempsey himself has said about his untimely death on ABC's long-running medical drama, regarding things "happening very quickly." We'll likely never know all of the nuances relating to the exit, but at least the series did a good job of keeping us relatively in the dark until the big moment happened.
Amazing Race & Top Chef superfan with a pinch of Disney fairy dust thrown in. If you've created a rom-com I've probably watched it.
Your Daily Blend of Entertainment News
Thank you for signing up to CinemaBlend. You will receive a verification email shortly.
There was a problem. Please refresh the page and try again.