What Jeremy Clarkson And Co.'s Amazon Car Show Is Going To Be Called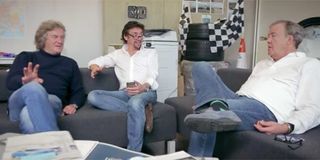 Jeremy Clarkson, James May and Richard Hammond have been putting together a TV show for Amazon for months and months now. The series is so far into development that the series is already filming for the subscription streaming service. However, there's one thing the series has lacked: a name. However, this week we learned that Jeremy Clarkson and co. have finally agreed to a name. It will be called The Grand Tour.
The news came straight from Amazon, and a quote from Clarkson explains why the gang finally agreed upon this name:
It's not the flashiest of names, really, especially when compared to the gang's former series Top Gear, which is both memorable and rolls off the tongue easily. However, this new name actually sounds a little more sophisticated than Top Gear and will hopefully help the guys to distance themselves from their former series and its format. The Grand Tour is filming worldwide and the tent aspect sort-of has a nomadic nature about it. We can't wait to see how the new guys fare on the subscription streaming service, but one thing seems for certain: Amazon is giving them a pretty free reign when it comes to producing and promoting the new series.
The news comes about a month after the trio put together a really humorous video discussing how long they planned to continue calling the Amazon series the currently unnamed TV show. At the time, the crew came up with some really wonky names, including Automate and Tripod, which didn't pass inspection. This morning, the gang released a full list of discarded names before getting to the winner.
Tripod was quickly dropped thanks to its sexual nature, and the bad pun of combining the concept of an auto with the concept of some mates hanging out also didn't make it past the first round. If you missed the comedic original video leading to the potential titles, you can check it out here.
The Grand Tour won't premiere until the upcoming fall, but if you are simply looking for a car fix, the new amalgamation of Top Gear just so happens to return to the schedule at the end of the month. You can find out what else is coming up this summer with our TV premiere schedule.
Amazing Race & Top Chef superfan with a pinch of Disney fairy dust thrown in. If you've created a rom-com I've probably watched it.
Your Daily Blend of Entertainment News
Thank you for signing up to CinemaBlend. You will receive a verification email shortly.
There was a problem. Please refresh the page and try again.