Why Amy Schumer Turned Down The Daily Show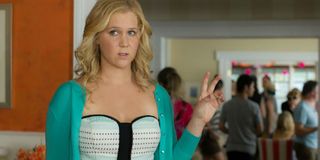 Amy Schumer has become one hot commodity as of late. Now as the young comedian gears up for her feature film debut, she's opened up about a few other opportunities she was offered in the past year, one in particular, the hosting position of Comedy Central's The Daily Show. But alas, like a handful before her, she answered with a "no thank you", mostly because of the length of the commitment.
The gig which would finally fall into the hands of lesser known, but up-and-coming comedian Trevor Noah was offered to many other A-List comedians before the final decision, but most were not interested in signing on. For Schumer, she gave the offer serious thought before coming to her final decision. She told The Daily Beast:
And there lies the issue with many all-star comedians right now. Hollywood loves them. Schumer, Amy Poehler, Louis C.K., Chris Rock and others who were in talks to take over Jon Stewart's seat have a wide variety of projects coming their way. For Schumer, she has her own already successful sketch comedy series on Comedy Central. Plus, her Judd Apatow directed film, Trainwreck opens in a couple weeks, and is bound to be an instant hit. She's also made cameos on HBO's Girls, hosted the MTV Movie Awards, and continues performing stand-up. Hosting The Daily Show would certainly be an honor, which Schumer notes in her interview with The Daily Beast, but it would also limit her projects elsewhere.
While Trevor Noah may seem little known compared to big names like Amy Poehler, Chris Rock, Louis C.K. and Schumer, the 31-year-old South African actor/comedian has quite the resume. He was the first South African stand-up comedian to appear on Late Show with David Letterman as well as The Tonight Show with Jay Leno. And as a contributor for The Daily Show for the last year, he has already learned the ropes.
It would have a been a fun, and much different show with Amy Schumer sitting behind The Daily Show desk, but I think we like her better in her sketch comedy comfort zone, ridiculing society in her own special ways.
You can check out Schumer on her Comedy Central series Inside Amy Schumer Tuesdays at 10:00/9:00c and be sure to see her aside Bill Hader in Trainwreck hitting theaters on July 17.
Your Daily Blend of Entertainment News