Why The Flash Was Able To Run To That Funeral On Arrow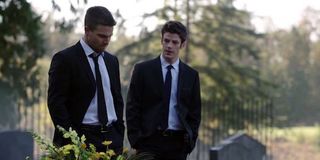 Last week on The Flash, Barry Allen willingly gave up his super speed to Zoom in exchange for Wally West being kept safe. Although Barry has lost his speed before, this is arguably the worst time it's happened, as not only is Central City without its Scarlet Speedster, but Zoom is more powerful than he's ever been. While this development is obviously a big deal, it doesn't match up with Arrow's timeline, since we saw in that show's flash forward that Barry sped over to Laurel Lance's funeral in Star City. Well, The Flash executive producer Todd Helbing points to unfortunate scheduling as the reason for this inconsistency. He said:
Helbing provided this explanation to TV Line, simply giving a behind-the-scenes issue rather than an in-continuity reason for what happened. Although Arrow and The Flash usually air new episodes at the same time throughout the TV season, this past month saw some deviation from the traditional scheduling. When Arrow aired its 18th episode, "Eleven-Fifty-Nine" on April 6, The Flash was already on its mini-hiatus, which lasted until April 19. So if they'd aired back-to-back as is usually the case, the progression of events would have made it flow more smoothly, though still not quite perfectly. Arrow returns with its Episode 19 tomorrow, so now the shows are back in sync with one another. If it helps, just think of The Flash's "Versus Zoom" as taking place before "Eleven-Fifty-Nine."
There may still be some continuity errors even with the sequence of events being more clearly outlined, but it's not worth delving into the intricate minutiae. My best guess at the moment is that Barry is going to get his speed back soon, whether it's in tonight's episode, "Back to Normal," or another one in the coming weeks. Then the funeral on tomorrow's Arrow episode, "Canary Cry," will happen, but because Barry's been so busy dealing with Zoom, he wasn't able to make it on time, thus why he chatted with Oliver afterwards. Either way, by the time both shows air their season finales in May, they'll finally be caught up with one another, which means they can kick off at roughly the same time in the fall.
Tonight's episode of The Flash will see Barry dealing with being de-powered just as Griffin Grey, a new metahuman with super strength, arrives in Central City to target Harry Wells, who he believes to be the Earth-1 Wells. Without his abilities, Barry and the rest of Team Flash will have to improvise taking Griffin down. As for tomorrow's Arrow, the protagonists will not only be struggling with coming to terms with Laurel Lance's death, but also have to deal with Black Canary sightings around Star City.
New episodes of The Flash air Tuesdays at 8 p.m. EST on The CW, while Arrow follows the night after in the same timeslot.
Connoisseur of Marvel, DC, Star Wars, John Wick, MonsterVerse and Doctor Who lore. He's aware he looks like Harry Potter and Clark Kent.
Your Daily Blend of Entertainment News
Thank you for signing up to CinemaBlend. You will receive a verification email shortly.
There was a problem. Please refresh the page and try again.