Why There's Absolutely No Touching Allowed On Downton Abbey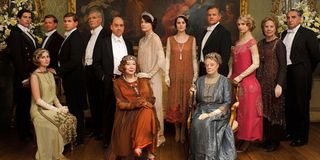 If you've ever seen an episode of Downton Abbey, you should know that it strives to be historically accurate (with the occasional mistake, of course). One of the big ways Downton Abbey strives to stay as in touch with the period as possible is by keeping the various cast members from touching one another. According to Downton's historical expert Alastair Bruce, the actors have been instructed not to touch one another while on set.
Bruce recently spoke out to explain the exact directions he gives each member of the cast.
Obviously maintaining protocol is important for the TV series. Around the turn of the 20th century and for some time thereafter, people were less physically affectionate than they are today. It might seem like a stilted cultural formality to avoid touching, but Bruce also explained to BBC Radio that people didn't touch each other due to the easy transmission of illnesses and the lack of good medicines to fight those diseases.
In the show, there is no casual hugging or coddling, but occasionally, the show does break the touching rule in its most intimate moments. Couples occasionally kiss or touch. Notoriously, When Mary was in mourning, the Dowager Countess put her arm around Mary's shoulders in a touching moment. But that wasn't even a full-on hug.
In moments of extreme celebration or emotion, characters have dropped their Victorian traditions and have come into close contact with one another. But as a general rule, Mr. Bruce has certainly put the kibosh on that sort of behavior, because influenza.
You can catch Downton Abbey Season 5 when it hits PBS on Sunday, January 4 at 9 p.m. ET. And if you've already caught the episodes in the U.K. have no fear, the cast will be back to avoiding touching one another when Downton Abbey returns for Season 6 in 2015.
Amazing Race & Top Chef superfan with a pinch of Disney fairy dust thrown in. If you've created a rom-com I've probably watched it.