Wilfred Brings In Big Numbers On FX, Louie Premiere Ratings Up From Season 1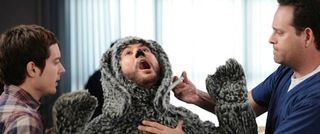 To say the ratings were good for Wilfred's debut on FX this week would be an understatement. Factoring in the encore telecast, the dog-themed comedy series based on a popular Australian show managed to score the network's highest ever premiere ratings for a comedy series. Louie's ratings were nothing to shake a stick at either.
Wilfred's series premiere telecast scored 2.55 million total viewers on Thursday night. Factor in the numbers for the encore telecast and the new comedy brought in a total of 3.8 million total viewers. Apparently, that's how many people were interested in seeing Elijah Wood hallucinate a man-dog. I'm going to attribute the strong numbers to a combination of Wood fans, comedy fans, dog fans and most importantly, FX's fair and honest promotions for the comedy series leading up to the premiere. The show follows a man named Ryan (Wood) who, following a failed suicide attempt, begins to see his pretty neighbor's dog as a man in a dog costume (played by series co-creator Jason Gann).
FX marketed the series exactly as it was, with ads featuring Ryan having conversations and silly moments with Wilfred. As that makes up the bulk of the show, people knew what to expect going into it. I think this is worth pointing out, mostly because I'm still bitter over Terriers' poor ratings and ultimate cancellation. If people know what to expect, they'll either tune in or they won't. If they have no idea what the show is about, and can't tell whether or not they might like it, I'm thinking there's a good chance they won't bother to watch. I don't think the Terriers promos did much, if anything to really market the show. The attempt was there but it was too subtle and never sold the excellent humor and drama offered in the series. Wilfred's teasers put the humor front and center and the premiere episode lived up to those ads.
Whether or not people come back for a second helping next week, remains to be seen. Below is the promo for Episode 2, titled "Trust," which follows Ryan and Wilfred as they take a trip to the vet. Wilfred's panicked reaction at the vet is pretty great.
Meanwhile, Louie's ratings were up from last season's premiere. Season 2 kicked off with 1.6 million Total Viewers and 1.0 million Adults 18-49, which is up 42% in both categories. FX also noted that last night's premiere episode is the most-watched single episode of the series in both Total Viewers and Adults 18-49. Celebrate that with a mango pop! (Just make sure your sister gets one too.)
Wilfred and Louie air Thursday nights at 10:00 and 10:30 p.m. ET on FX
Your Daily Blend of Entertainment News
Thank you for signing up to CinemaBlend. You will receive a verification email shortly.
There was a problem. Please refresh the page and try again.