World Without End [Blu-ray Review]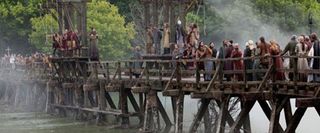 World Without End is a mini-series based on Ken Follett's popular novel of the same name. It's also the sequel to the novel and miniseries Pillars of the Earth, which enjoyed a nice run on Starz. Unfortunately, World Without End was shuttered away on Reelzchannel, which means fans likely had to seek it out. If you are a fan of the Pillars of the Earth miniseries, you will probably enjoy World Without End, as well, and you'll be able to do so on Blu-ray and DVD very soon.
The series opens around 200 years after Pillars ended. In the town of Kingsbridge, a man is chased and injured by some soldiers, while some Kingsbridge children look on. The man, Sir Thomas Langley (Ben Chaplin) ends up moving into the town's monastery and becoming a monk. Some years later, as the black death begins raging through the countryside, Langley will find himself working with a forward-thinking doctor, Caris (Charlotte Riley), and a visionary architect, Merthin (Tom Weston-Jones), to save the town and continue building for a better future. In the midst of this, a long forgotten mystery begins to unfold.
World Without End is an epic miniseries, one that attempts to maintain a level of historical accuracy while keeping viewers pinned to their seats. The vision of a small, simple town is not beautiful, but it is rich, and fans should find themselves investing in the lives of the characters, even if they also find themselves disagreeing with the lifestyle choices and beliefs of the time. If you are the type of person who still believes in dung poultices, the latter may not apply.
World Without End may be richly detailed, but it isn't always easy to watch. It's unclean and uncomfortable to be subjected to women getting raped over and over again in this series. I'm fairly certain that with eight segments there are more rapes than episodes, and it's more than a little disarming and disheartening. Clearly, women had to be careful around men in this period, lest they be named a slut or a witch and mob rule take over, but I'm not sure what point there is in forcing even the most beloved women in this series to be fondled or forced into sex, other than that Ken Follett said so. There are few moments when sex is shown as an act of love, although they do occur, but even gratuitous nudity would have been much preferred to gratuitous rape.
Still, it's impossible to feel indifferently about World Without End. The characters are all very well drawn up, with complicated interactions and diverse personalities. True evil is very rooted in the town, and true belief is often intertwined with it. Whether they are agreeing or disagreeing with certain characters' motivations, viewers will have very firm feelings about what they are watching, and it's much better to see the story through to the end than to try to quash those feelings and give up on the series, no matter how visceral the reaction may be. The World Without End miniseries is as good as the best page-turner, probably because it is rooted in source material of that ilk.
The only extra with the set is a behind-the-scenes segment titled "The Making of Ken Follett's World Without End." The segment makes up for being the only bonus feature on the disc by being long and informative. Not only are the costumes and the styles of the times discussed, but the shooting of the series and the special effects are also included. A short part of the documentary also discusses the bridge collapse scene in detail, and the careful, arduous task of getting that scene just right. The stuffy Ken Follett pops up left and right in this extra, but hearing him gleefully talk about how the bridge scene cost him nothing to write yet was nearly the producers' downfall makes the rest of the stuff that pops out of his mouth worth it.
Though set in a different time period, World Without End reminds me of another miniseries, Mildred Pierce, which also focuses on tough relationships and the ties that bind individuals. Though difficult to get through, miniseries like these are ultimately rewarding. They offer historical perspectives and personalities that are often far different than those the audience may know or fully understand. World Without End should be discovered, digested, and explored, yet no one should bat an eyelash if a viewer only has the patience to get through it once.
?Rating:
?
?
Length: 389 minutes
Distributor: Sony Pictures Home Entertainment
Release Date: 12/04/2012
Starring: Ben Chaplin, Charlotte Riley, Tom Weston-Jones
Directed by: Michael Caton-Jones
Created by: John Pielmeier
Reality TV fan with a pinch of Disney fairy dust thrown in. Theme park junkie. If you've created a rom-com I've probably watched it.
Your Daily Blend of Entertainment News
Thank you for signing up to CinemaBlend. You will receive a verification email shortly.
There was a problem. Please refresh the page and try again.