Yet Another Women In Prison Movie In The Works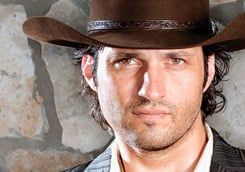 Just yesterday I reported that HBO is on the prison bandwagon with their mostly female Bad Girls. Now, I hear there is another show with the same theme – women in prison – being shopped around. This time the title is Women in Chains and the man behind it all is Quentin Tarantino's old pal Robert Rodriguez.
You may remember Mr. Rodriguez from such bloodbaths as Grindhouse, Sin City, Four Rooms, and From Dusk till Dawn. Yet, he also wrote and directed my kids favorite movie, Shark Boy and Lava Girl. What a paradox, huh?
This new offering will, of course, feature Robert's fiance Rose McGowan as one of the featured women. Early this week, AintItCool.com reported that "It's a project that was conceived and written by Josh Miller and his writing partner M.A. Fortin…Well, as I heard it - these two decided to head out into the desert for 40 days and 40 nights to conceive and write a Television Show that left a mark... reddish and slightly raised at that. They conceived a show with Sadistic Guards, Cafeteria Hosedowns, Mud Wrestling, Violent Vendettas - a women in prison exploitation show"
Sounds like classic Rodriguez to me. I like every movie listed above, even with the blood and everything. I also think that Robert Rodriguez is freaking hot, but I have issues with anyone who cheats on a long-time spouse and then leaves said spouse for his hot young muse. Since that happened, I've been a little anti-Rodriguez, and mud wrestling female convicts do not help improve my opinion.
Your Daily Blend of Entertainment News