Zach McGowan To Be Series Regular In Shameless' Third Season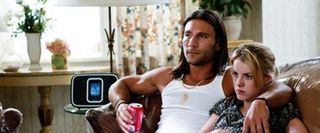 Showtime's Shameless has become one of my favorite shows, so it was great to hear that the cable net has already given the Gallagher clan an early renewal for season three. Now that the show's immediate future is secure, the producers are obviously trying to make sure all their ducks are in a row as far as actor contracts, and one in particular has specific implications for the storyline. Deadline reports that Zach McGowan, who plays recovering sex addict/Karen love interest Jody, has been promoted to a series regular for the upcoming third season.
Jody's character has been a thorn in Lip's (Jeremy Allen White) side this whole season, having ruined Lip's non-relationship with Karen (Laura Wiggins). While Lip initially thought the new -- and abstinent -- relationship with Jody was just a phase, it's become clear that Karen has no plans of ditching her long-haired beau. And given this news, it looks like Lip won't be crawling back into Karen's pants anytime soon...at least not exclusively. Either way, things should get interesting, given that there's a baby in the mix.
Shameless is currently halfway through its second season. The show follows the eccentric but tightly knit Gallagher clan as they struggle to make ends meet despite getting no support from their alcoholic, frequently criminal patriarch, Frank (William H. Macy). Doing her best to ringlead the chaos and keep a roof over their heads is big sister Fiona (the lovely Emmy Rossum, who is the subject of a probably unhealthy crush from yours truly). Shameless airs Sunday nights at 9/8c on Showtime.
Your Daily Blend of Entertainment News
Your Daily Blend of Entertainment News
Thank you for signing up to CinemaBlend. You will receive a verification email shortly.
There was a problem. Please refresh the page and try again.