iCarly Dominates Cable And Most Of Broadcast TV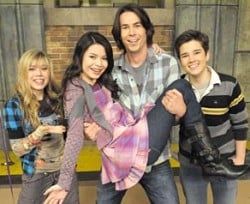 Normally, I'm not sure I'd have much to say about Nickelodeon's iCarly, nor would you probably care, but something odd happened with last week's episode. After a typical hiatus, and following a respectable two-part iCarly movie, the series came back to ratings that the broadcast networks have reason to be jealous of, shattering Nick records.
Easily topping cable for the week, iCarly nabbed 11.2 million viewers. This is not only the highest ever ratings for the series, now in its third season, but it's the highest live-action telecast ratings ever for the entire network. To top it off, the episode was the most-watched program on television that night. Period. As in it beat everything the broadcast networks aired as well.
For kicks, I looked at the weekly ratings of the broadcast networks, as reported by Zap2It. For the week of January 18-24, 2010, iCarly would have ranked 16th on the week, between FOX's Bones and 24. NBC's highest rated show, The Biggest Loser, managed 9.9 million -- though admittedly it was up against American Idol for its first hour. Regardless, iCarly beat the entire NBC lineup for the entire week. Over at ABC, only Grey's Anatomy (12.7 million) bested her.
No matter how you cut it, its a monumental achievement for what is essentially a kids/teen show. It's also yet another example of how the differences between cable and broadcast television are eroding more and more when it comes to ratings. Yes, cable doesn't achieve Idol numbers (26.5 million average on the week), but it's capable of matching the vast majority of what the networks are putting on, apparently.
Your Daily Blend of Entertainment News
Your Daily Blend of Entertainment News
Thank you for signing up to CinemaBlend. You will receive a verification email shortly.
There was a problem. Please refresh the page and try again.