iZombie Review: CW's Clever Mystery Drama Starts Out Strong With Room To Grow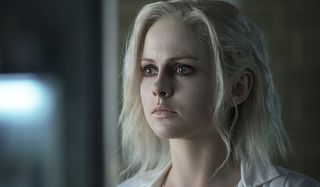 Watching the first few episodes of CW's iZombie, it becomes apparent with most certainty that Rob Thomas and Diane Ruggiero's new series ate the brain of Veronica Mars and acquired some of the beloved teen detective drama's best personality traits. But much in the way the series' star maintains her own identity while taking on some of the behavioral aspects of the people whose brains she occasionally eats, iZombie is its own series, throwing a supernatural twist on a mystery show, and delivering the kind of sharp dialogue and cleverness we came to know and love from Veronica Mars. There's also an inner monologue, a mystery of the week and an adorable, brainy blonde helping to crack the case.
But I digress. Let's not obsess over the Veronica Mars comparisons. Those who knew and loved the gone-too-soon series may see traces of Mars in iZombie, but this is very much a new series, complete with an undead spin on your typical young adult drama. This loose adaptation of Chris Roberson and Michael Allred's DC/Vertigo comic book introduces us to Liv (Rose McIver), an over-achieving medical resident whose life-plans change drastically when she ends up being turned into a zombie. Her appetite for brains leads her to take a job at a coroner's office, where she can make good use of her med school education and also find lunch, as she feeds off the brains of some of the Jane/John Doe corpses sent to the morgue. She soon learns that ingested brains gives her the person's memories and traces of their personality traits. As many of these people are crime victims, some of their memories prove particularly useful at solving their murders. Crime-solving inevitably ensues.
Joining Rose McIver among the cast are Malcolm Goodwin, Rahul Kohl, Robert Buckley and David Anders. Goodwin plays Clive Babineaux, the detective who calls upon Liv to help him out with cases. Rahul Kohl's Dr. Ravi Chakrabarti works alongside Liv at the coroner's office. He's one of the few people in Liv's life who knows what she is, and he's fascinated by her condition. Robert Buckley plays Major Lilywhite, Liv's ex-fiance. Like some of the other people in Liv's life, he has no idea what's going on with her or why she's changed so dramatically.
The pilot episode makes the smart choice not to walk us through every step in the process of Liv's transition from aspiring doctor to brain-eating zombie. Instead, we're given a runthrough of what happened and brought to the present where she's already adjusting to zombie life, where she's on the verge of being reluctantly drawn into crime-solving. Liv has drifted from her old life and she's mostly let go of her fiancé and her professional ambitions, but she hasn't abandoned her desire to find meaning in her undead life.
The story is split between Liv's efforts to adjust to zombie life, the impact it's had on her personal life, and her efforts to use her abilities to help solve murders. In that respect, iZombie slips into a groove early on, giving us a good idea of what to expect from the series in terms of the format. The introduction to David Anders' character strongly suggests that the bigger mystery surrounding the existence of zombies and Liv's involvement will be explored eventually.
TV may be at its saturation point when it comes to the walking dead, but iZombie steers the genre a bit more toward Warm Bodies territory in setting the zombie as the protagonist and approaching the subject with dark humor. Thanks in part to the writing, and in part to Rose McIver's performance, Liv proves to be more charming and captivating than she is scary. What works even better is the edge McIver's character has, particularly when her zombie nature emerges, or when she's channeling the personality traits and/or abilities of the person whose brain she has recently ingested.
In one episode, she's finding herself with the uncontrollable urge to steal, thanks to the kleptomaniac nature of the victim. In another, she's channeling her artistic side while trying to solve the murder of an eccentric artist. Between that and her zombie nature, McIver's character finds a perfect balance between dark, unpredictable and incredibly likable.
In terms of how dark iZombie really is, don't expect The Walking Dead-levels of horror and gore. You will see the occasional raw brain, but the grisliness of the undead is relatively mild on a scale that includes AMC's zombie drama, or something you might see in a George Romero movie. In terms of the horror, think more Buffy the Vampire Slayer than The Walking Dead. And with its blending of the supernatural genre and dark humor, Buffy's probably a fair comparison in terms of the tone of the show. (But that's about as far as I'm willing to take that comparison, at least, for now.) iZombie gets off to a solid start, with room to grow and plenty of potential to be explored. I'm especially eager to see more of Liv's zombie side, and the extent of her abilities.
It's been nearly a decade since UPN and the WB merged to become the CW, and in that time the network has taken chances and dabbled in different genres in an effort to shape its identity. Veronica Mars was among the network's earlier cancellations. With that in mind, it's fitting that Rob Thomas and Diane Ruggiero's new series should arrive now, just as the network seems to have figured out what it wants to be, and who its audience is. CW is ready for a show like this just as viewers will hopefully be ready to appreciate iZombie for all its clever, snarky, occasionally twisted, brain-eating, crime-solving goodness.
iZombie premieres Tuesday, March 17 at 9:00 p.m. ET on CW.
Assistant Managing Editor
Kelly joined CinemaBlend as a freelance TV news writer in 2006 and went on to serve as the site's TV Editor before moving over to other roles on the site. At present, she's an Assistant Managing Editor who spends much of her time brainstorming and editing feature content on the site.
Your Daily Blend of Entertainment News
Thank you for signing up to CinemaBlend. You will receive a verification email shortly.
There was a problem. Please refresh the page and try again.