4 People Have Been Injured Following Incident At DreamWorks Water Park
An incident at DreamWorks Water Park leaves 4 people injured.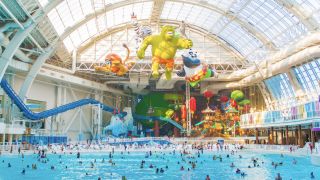 (Image credit: DreamWorks)
The DreamWorks Water Park is the largest indoor water park in the United States. Located in East Rutherford, New Jersey, this American Dream Mall water park has 15 water slides and 15 attractions centered around some of the best DreamWorks animation films like Shrek, Kung Fu Panda, and How to Train Your Dragon. Unfortunately, DreamWorks Water Park faced a tragic incident recently that left four people injured.
New Jersey's DreamWorks Water Park will be closed at least until Wednesday due to a scary incident that happened this past Sunday. As reported by Deadline, a decorative helicopter fell out of nowhere from the ceiling into the swimming pool. Based on local reports, the decorative helicopter suspended above the pool somehow got detached, plunging into the pool after 3 p.m.
The New Jersey State Police said that four people endured minor, non-life-threatening injuries following the accident, one being taken to the hospital and another being treated at the scene. Mall operators released a statement saying a "thorough investigation" will be launched to ensure the park meets all safety regulations. It is unclear if the park will need more time after Wednesday to open back up.
I can only imagine how scary an unexpected event like this can be for tourists and families looking for a fun time. This water park already had to hurdle through obstacles when it was first planning on opening. The DreamWorks Water Park was expected to be open to the public in September 2019 only for the opening to be delayed until November 27, 2019. However, due to undisclosed reasons, the premiere date of the park was yet again postponed. Finally, this incredibly large water park had a new opening on March 19, 2020, only for the COVID-19 pandemic to reschedule its opening once again around the time theme park attendance was even worse. Ultimately, this DreamWorks-themed water park debuted on October 1, 2020, with popular attractions like Dragon & Dronkey's Flight, Trolls Rainbow Racers, and Shrek's Sinkhole Slammer.
This past year, theme park goers have suffered a number of tragedies from many other theme park attractions. In March, a Floridian teenager died after he fell from a FreeFall ride tower at Icon Park. After being out of commission since the unfortunate freak accident, the tower ended up being removed from the park. In August, 14 people were injured with five people hospitalized due to sustaining injuries from a Six Flags roller coaster malfunctioning. Then in December, a slingshot on a ride snapped in mid-air at Hyde Park's Winter Wonderland in London with the two teens inside the ride luckily receiving no injuries.
Accidents like what happened at DreamWorks Water Park cannot repeat themselves when civilians are involved. The only silver lining that could occur from incidences like this is to encourage those running these theme parks to do more thorough checks before allowing the public to enter to ensure everything is running safely and smoothly.
Your Daily Blend of Entertainment News
Just your average South Floridian cinephile who believes the pen is mightier than the sword.