Add Toy Story 3 To Your Home Entertainment Toybox November 2nd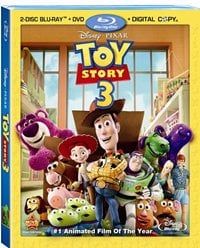 If you sat in a theater this summer and watched Pixar close out its flagship franchise in beautiful, bittersweet style, your eyes are probably finally drying out by now. You've got just around a month and a half to let your tear ducts refill, because Walt Disney Studios Home Entertainment has announced a November 2nd release date for Toy Story 3 on Blu-ray and DVD. Don't worry, though, you can tell everybody you've just got some dust in your eye. It'll be our little secret.
The third and (so far) final installment in Pixar's awesome Toy Story franchise finds Woody, Buzz, and the gang facing every toy's greatest fear: obsolescence. Andy is 17 years old and college-bound, leaving the toys to wonder what will happen to them. Will they be packed away in the attic so they can eventually be passed down to the next generation? Or will they just wind up on the curb? Turns out there's a third option, as they wind up donated to the Sunnyside Daycare, a seeming toy paradise that proves to be somewhat less idyllic than it initially appears. Like the first two films, Toy Story 3 is by turns funny, touching, and thrilling. It's a perfect close to a perfect trilogy, and you shouldn't even have to think twice about adding it to your collection.
In typical Disney fashion, Toy Story 3 will arrive in a variety of formats: a four-disc Blu-ray combo pack ($45.99), a two-disc Blu-ray ($39.99), and a standard DVD edition ($29.99). If you don't already have the first two movies, Disney is also releasing the Ultimate Toy Box 3-Movie Collection that same day for a list price of $100. You can see pics and specs below.
Toy Story 3 DVD Bonus Features
Day & Night -- The innovative and entertaining short from the imagination of Pixar artist and Director Teddy Newton.
Toys! -- A closer look at all of Toy Story 3's beloved toys, from updating the classic characters to the creation of the Sunnyside Daycare and Bonnie's Room toys.
Buzz Lightyear Mission Logs: The Science of Adventure -- Produced in conjunction with NASA, this hybrid animation documentary of Buzz's visit to the International Space Station focuses on research in zero gravity and Buzz's triumphant return to Earth.
Paths to Pixar: Editorial -- Pixar editors, past and future, share anecdotes about their careers.
The Gang's All Here -- A touching look at the returning voice talent for Toy Story 3 and an introduction to the voices of the new characters.
A Toy's Eye View: Creating a Whole New Land -- A sneak peek at the new Toy Story-themed playland at Hong Kong Disneyland.
"Where's Gordon?" -- An animator finds a hidden room at Pixar.
"Cereal Bar" -- The majestic and expansive Pixar cereal bar is explored.
"Clean Start" -- The Toy Story 3 animators shave their heads to mark the start of the film.
Blu-Ray Combo Pack Bonus Features
Everything on the DVD, plus...
Toy Story Trivia Dash -- This cool game challenges you to sprint to the finish with Woody, Buzz, Jessie, and Rex as you quickly answer questions about all three Toy Story movies.
Cine-Explore -- Commentary by Director Lee Unkrich and Producer Darla K. Anderson.
Beyond the Toybox: An Alternative Commentary Track Featuring Leads from Story, Tech, Art and Animation -- Commentary by Story Supervisor Jason Katz, Supervising Technical Director Guido Quaroni, Production Designer Bob Pauley and Supervising Animators Bobby Podesta and Michael Venturini.
Beginnings: Setting a Story in Motion -- Screenwriter Michael Arndt analyzes successful opening scenes from Toy Story, Finding Nemo, and The Incredibles.
Bonnie's Playtime: A Story Roundtable -- A roundtable discussion with Director Lee Unkrich and the story artists who brought the "Bonnie's Playtime" scene to life.
Roundin' Up a Western Opening -- The development of the movie's exciting opening scene.
Life of a Shot -- Toy Story 3 artists and technicians describe their contributions to a few of the shots in the film's "Western Opening."
Goodbye Andy -- An exploration of character design, acting and animation in the scene "Andy's Goodbye."
Accidental Toymakers -- By creating the Toy Story characters, the Pixar filmmakers found themselves in the unlikely role of toy designers. Meet the toy company that took a chance on manufacturing the now iconic toys and learn of their incredible success that began with a modest number of Woody and Buzz Lightyear toys 15 years ago.
Making of Day & Night -- The story behind the unique 2D/3D blended short.
Your Daily Blend of Entertainment News
Thank you for signing up to CinemaBlend. You will receive a verification email shortly.
There was a problem. Please refresh the page and try again.