Buena Vista Has A Proposal For You On Blu-Ray And DVD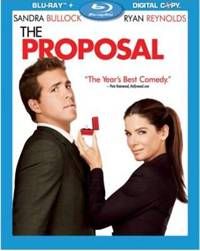 Ryan Reynolds has been a busy boy of late. After putting in a solid performance in this year's excellent Adventureland and being arguably the best part of X-Men Origins: Wolverine, Reynolds' career has taken a super-heroic turn. After seemingly every young actor in Hollywood being rumored for the role, Reynolds will wield the ring as Hal Jordan in the upcoming Green Lantern movie. Plus, he's still gunning to play mouthed merc Deadpool in a big-screen take on that character that will hopefully be more faithful to the character's comic origins than Wolverine (it'd almost have to be). Still, they can't all be power rings and spandex, so Reynolds recently got his rom-com on with Sandra Bullock in The Proposal, and on October 13th the flick hits DVD and Blu-ray. On a related note, apparently Sandra Bullock is still alive.
The DVD will come in both a one- and two-disc versions, in case you prefer your romantic comedies bare bones for some reason. The rest of you can look forward to special features including outtakes, deleted scenes, an alternate ending, and commentary with director Anne Fletcher and writer Peter Chiarelli.