Captain Planet To Come In Eco-Friendly Packaging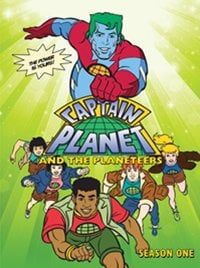 Either Whoopi Goldberg enjoys playing human manipulators or Hollywood actually thinks she's a good figure of authority. In the quickly forgotten TV show Tracey Takes On, as well as in her upcoming feature A Little Bit of Heaven, Goldberg plays God. In the film Monkeybone, she plays Death. Perhaps her least memorable though most ridiculous performance in this wheelhouse is her role as Gaia, mother of the Earth and all living creatures on the show Captain Planet and the Planeteers, a children's series that ran during the '90s.
If you are interested in this holy mackerel of a performance, the first season of Captain Planet will be hitting DVD on April 19th (apparently Blu-ray is bad for the environment). The series, which is based on the adventures of five planeteers and a blue-bodied, green-haired superhero who work together to save the Earth, will come in an eco-friendly four-DVD box set. This environmentally friendly message did more than create unique packaging for the show. Over the years, Captain Planet's message appealed to a ton of well-thought-of celebrities who made appearances, including Meg Ryan, Edward Asner, Tim Curry, Martin Sheen, John Ratzenberger, Jeff Goldblum, James Coburn, Sting, and Frank Welker.
Copies can be pre-ordered via Amazon. So have some heart, and look into a copy; remember, the power is yours!
Your Daily Blend of Entertainment News
Thank you for signing up to CinemaBlend. You will receive a verification email shortly.
There was a problem. Please refresh the page and try again.