Diary Of A Wimpy Kid On DVD August 3rd, The Cheese Touch Is Coming!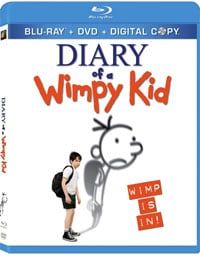 Need to get your kid in back-to-school mode? On August 3rd Fox Home Entertainment will release Diary of a Wimpy Kid on DVD and Blu-ray. Okay, Greg Heffley (Zachary Gordon) doesn't have that gung-ho school attitude you'd want your kids to begin the year with, but he does learn some valuable lessons.
The film is based on the first of Jeff Kinney's Wimpy Kid books. It kicks off with Greg and his pal Rowley's (Robert Capron) first day of middle school. Greg is determined to become popular and be named a "class favorite," even if it's at Rowley's expense. The two get into heaps of trouble, including a run-in with some tough teens on Halloween, ruining the school play by starting an apple fight, and getting dangerously close to contacting the Cheese Touch.
It's easy to peg a film like this as a kids-only piece, but any parent who picks this one up for the little ones will be pleasantly surprised. Greg may not be the most likeable hero, but anyone who's gone to middle school can relate to and sympathize with his situation. On top of that, the film is a particularly well-done adaption, cleverly including the stick-figure cartoons from Kinney's book into the live-action material.
The film is certainly worth your cash, but I'd say ditch the pricier Blu-ray/DVD combo ($39.99) and just stick with the DVD version ($29.99). Both will feature commentary with director Thor Freudenthal and writer Gabe Sachs, as well as "Greg's Deleted Diary Pages." The only item included in the combo pack is a digital copy of the film, and if it's that important to you, you might as well just buy Diary of a Wimpy Kid on iTunes to begin with.
Your Daily Blend of Entertainment News
Staff Writer for CinemaBlend.