Disney Finally Addresses Pinocchio Dialogue Problems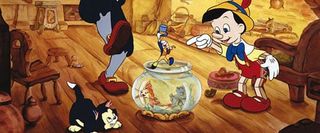 Back in December, I bitched about the dialogue problems present on the Pinocchio 70th Anniversary Blu-Ray and DVD discs. This Disney release came out in 2009, and unless someone is hoarding a set of older DVDs somewhere, the affected release is the only one widely available. Though the disc had been on the market for well over a year, no action had been prominent.
Now, Blu-Ray.com is reporting Disney has finally gotten around to replacing the discs. If your DVD or Blu-Ray copy is missing the line "Right!" from Jimminy Cricket as well as his warning, "Look out, Pinoke!" near the "Give A Little Whistle" song, than you are eligible for a new copy. You will just need to call 800-723-4763 and make your complaint to get the process rolling.
I think it's great Disney is finally fixing the problem, but also pretty douche-y since the company is likely only giving you a limited time frame to make the fix. Pinocchio goes back into the vault on the last day of this month and I'd assume after that, any complaints will be moot. Point being, even if the missing dialogue isn't noticeable to you, fixing your copy might send Disney a message they need to take care of things like this in a more timely fashion.
Your Daily Blend of Entertainment News