Extreme Makeover: Tinker Bell Edition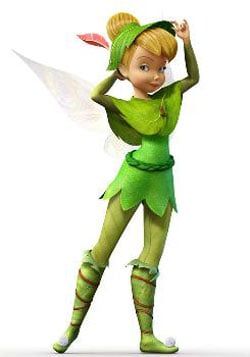 Tights are all the rage nowadays, and it looks like Tinker Bell got the memo. Check out our favorite fairy's new getup. Tinker Bell is out of Peter Pan's shadow and now has the matching updated look to go with her new Disney star status.
The first of four Tinker Bell straight-to-DVD movies, Tinker Bell, hit stores in October of 2008 and sold just about 3.5 million copies. The second feature, Tinker Bell and the Lost Treasure, will be available October 27th. In the years to come, we'll see Tinker Bell: A Midsummer Storm, followed by Tinker Bell: A Winter Story. In July, Disney announced a fifth installment of the Tink DVD series, Tinker Bell: Race Through the Seasons.
This extensive character project stems from Pixar co-founder John Lasseter's special interest in Tinker Bell. "She's my absolute favorite character of all the Disney characters. She is so cute with her spunk and personality." According to Lasseter, each of the Tinker Bell movies will have a seasonal theme. The season for Lost Treasure is autumn. Tink couldn't wear her usual skimpy frock in autumn. Director Klay Hall explains, "It made sense she was going to put on a jacket, leggings, and boots." By process of elimination, the first of the four films must represent spring. If her super-short dress is all she has to wear that time of year, I'm guessing we'll see a beach-bound, bikini-clad Tink for A Midsummer Storm. If she continues to follow the latest trends, perhaps a pair of Uggs could be in store for A Winter Store.
What's the best part of USA Today's article about the new Tinker Bell? Click here to check out a fascinating slideshow of Tinker Bell's development, starting with a variation of the Blue Family from Pinocchio in the 1940s up to her hip style for Lost Treasure today.
Staff Writer for CinemaBlend.
Your Daily Blend of Entertainment News
Thank you for signing up to CinemaBlend. You will receive a verification email shortly.
There was a problem. Please refresh the page and try again.