First Episode Of Mortal Kombat: Legacy Now Viewable On YouTube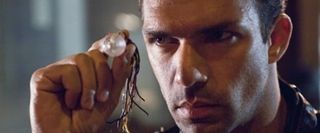 With video-games becoming more mainstream and technology advancing to the point that games can begin to compete with TV and feature-film storytelling, the lines between various forms of entertainment are starting to blur. While we have yet to get the first great video game movie (sorry, Max Payne), the cross-pollination has become widespread, from games that perfectly nail their long-standing source material to continuing attempts to find the first genuine game-based summer blockbuster.
With all this back and forth, things can get confusing. For instance, we have Mortal Kombat: Legacy, a new live-action web-based series based on an earlier proof-of-concept short called Mortal Kombat: Rebirth that was designed to pitch a new Mortal Kombat film series, itself based on the iconic and violent video-game fighting franchise, and all of which would love nothing more than for you to forget the earlier cinematic adaptations ever existed. Whew.
The first episode of Mortal Kombat: Legacy went live this week on Machinima, a popular YouTube entertainment network, in partnership with Warner Bros. Digital Distribution. The series puts a dark, serious spin on the sometimes over-the-top source material, and stars Jeri Ryan (Star Trek: Voyager) as "Sonya Blade," Michael Jai White (The Dark Knight) as "Major Jackson 'Jax' Briggs," and Darren Shahlavi (300) as "Kano." Director Kevin Tancharoen, who helmed the Rebirth short, returns to the driver's seat for this series, also writing the eps with Aaron Helbing and Todd Helbing.
You can view the first episode of Mortal Kombat: Legacy right here, and we've got a clip below. For all the latest gaming news on Mortal Kombat and more, be sure to check out our Games section.
Your Daily Blend of Entertainment News