Friday Night Double Feature: Remembering Heath Ledger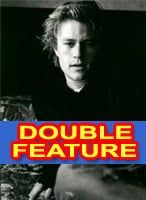 If it feels like half of what we've written sitewide this week has been focused on Heath Ledger's death, that's because it kind of has. You can't lose an actor of Ledger's skill and potential without reflecting on the career that was and wishing more of that promise could have been fulfilled. Ledger's passing is a tragedy, not just a loss, and with tragedy you need to take pause for a moment of reflection, and that's what a lot of us have been doing.
Even here at the Friday Night Double Feature we're taking pause to remember Heath Ledger, although we don't want to get too heavy into his dramas – this is Friday night after all. Lucky for us, Ledger's filmography is a wide spectrum, with some movies that are perfect for that Friday night unwind – including one we've recommended before.
If you've never seen these movies, they are worth checking out. There are several in Ledger's portfolio (listed below this week's feature) that I probably would also recommend had I seen them before I wrote this. Unfortunately, it was not to be. So, if you have, what would you combine for your Ledger themed Double Feature? Let us know in the comments below so I can load up my Netflix queue appropriately.
A Knight's Tale
Last time I recommended A Knight's Tale as part of a Double Feature it was for baddie Rufus Sewell, so it's almost ironic that this time we're promoting the film for the protagonist side of things. Although there's no denying that Ledger's role in the movie is largely to be handsome and make female viewers swoon, there is a sense of the actor he would become in the character, particularly as his character finally has to face the reality of his heritage, as opposed to the fantasy he lives in for the bulk of the picture. I still think more of the movie's strengths like in the co-stars (particularly Alan Tudyk, Paul Bettany, and Mark Addy), but this is the movie, along with The Patriot, marks the period in Ledger's career where he was really rocketing towards stardom and building a name for himself. While that stardom had its downside (like people like me writing off the actor as just a pretty face), it definitely helped Ledger move forward to a more developed part of his career.
The Brothers Grimm
If I really wanted to showcase Ledger's talent as a true artist, I would probably select another movie to put here. As I mentioned above, however, this isn't about getting bogged down in the weighty dramas the actor was a part of. Instead I'm including the movie that first made me take Heath Ledger seriously. Terry Gilliam brilliantly cast both Ledger and Matt Damon against type in The Brothers Grimm, giving Ledger a chance to play with more than his looks. Instead of the enchanting, charming brother, Ledger plays the dreamer and, frankly, the more awkward and clumsy of the two brothers. Still, it's Ledger's imaginative character that makes this movie work for me, especially as a character I can connect with more. The effects may be low-grade at times, and the story is as outlandish as you might expect from the former Python director, but it's a good chance to see the actor at work, for those who are willing to give it a try. It's unfortunate that Ledger's other collaboration with Gilliam, the movie he was working on within the last few weeks, may never come to fruition because of the actor's untimely death.
Ledger's Filmography: 10 Things I Hate About You, The Patriot, Monster's Ball, The Four Feathers, Ned Kelly, The Order, Lords of Dogtown, Brokeback Mountain, Casanova, Candy, I'm Not There
Enjoy our Double Feature suggestions? and maybe we'll use them in a future column.
Your Daily Blend of Entertainment News