Have I Told You About Memento's 10th Anniversary Blu-Ray?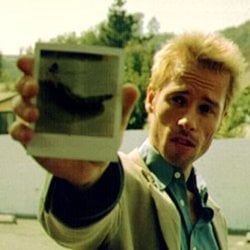 The slew of recent anniversary-edition Blu-ray releases continues with Lionsgate's announcement that Memento's 10th birthday will give us all a gift: a new high-def transfer of the film approved by Christopher Nolan. Tattoo this on your arm: Memento (10th Anniversary Edition) is coming your way February 22nd, 2011.
From the looks of the special features listed, it doesn't look like we'll be getting much new here that hasn't been included with earlier editions, which is a shame. Still, a new featurette is better than nothing.
Bonus Features
Audio commentary with Christopher Nolan
New featurette with Nolan discussing the legacy of the film
Director's script
Original short story Memento
Anatomy of a Scene
Your Daily Blend of Entertainment News